Three Deliciously Affordable Family Meals Ready In Less Than 30 Minutes
This is a sponsored conversation written by me on behalf of Save-A-Lot. The opinions and text are all mine.
I created three deliciously affordable family meals that were ready in less than 30 minutes and you can too!  If you've been following me for long, you know that I'm a big fan of Save-A-Lot.  I love their great prices and their produce section is amazing!  I have never found any produce prices consistently lower than Save-A-Lot and I get the same great quality every time I go.  Save-A-Lot has now introduced a new line of hand crafted foods called America's Choice® Creations.  I was asked to try them out and share my thoughts, honestly.  I was a little afraid at first, because I don't always like pre-packaged foods.  I am a homemade-from-scratch kind of mom.  We eat frozen pizza once a week, but that's usually it.  Well, fast-forward to my three easy meals and OH…MY…GOODNESS!  Not only did these foods taste amazing, but my kids were begging for more.  We are headed back to Save-A-Lot this weekend and every new creation we tried is on our list.  I even want to try a few new ones that we didn't try in our first round.
WHAT IS AMERICA'S CHOICE® CREATIONS?
We're proud to introduce our new mouth-watering collection of flavorful favorites made deliciously unique and crafted with high-quality ingredients. America's Choice® Creations are designed to be EASY to make and taste GREAT. These new favorites are available exclusively at Save-A-Lot Food Stores and are the perfect way for you to indulge a little while you continue to Save A Lot.
America's Choice® Creations Product Line:
Peanut Butter Truffle Brownie
Pecan Caramel Brownie Cookie
Triple Pepperoni Pizza
Supreme Pizza
Honey Bourbon Salmon
Stuffed Salmon
Crab Cakes
Black Angus Bacon & Cheddar Burger
3 Meat Lasagna
Bacon Mac n Cheese
Cheesecake
Chocolate Chip Cookies
Lemon Shandy Beer Bratwurst w/Cracked Black Pepper, Harvest Apple Bratwurst, Caprese Italian Sausage & Octoberfest Beer Bratwurst
Find the closest store near you!
I created three full meals for my family of five.  The first night we had America's Choice® Creations Triple Pepperoni Pizza,  and Pecan Caramel Brownie Cookie along with a salad I created with a Dole Italian Blend salad mix, grape tomatoes, Dole green onions, and croutons I bought while I was at Save-A-Lot.  The pizza tasted homemade!  The crust was crispy, but soft, which is exactly the way we love the pizza crust.  The cookies tasted fresh and the caramel and pecans on top of the brownie cookie were a perfect combination!
The second night I made America's Choice® Creations Octoberfest Beer Bratwurst, New York style cheesecake,  and bacon mac n cheese.  I bought our Grissom's Mill hot dog buns and Dole cole slaw mix at Save-A-Lot as well.  We don't but bratwurst often enough, but when we do we always enjoy them.  These America's Choice® Creations Octoberfest Beer Bratwurst will be our go-to brand from now on.  The New York style cheesecake was amazingly moist and firm; the flavor was amazing.  Now, to the bacon mac n cheese……I was a little worried about buying frozen mac n cheese.  I'm the mother of three strange children who are not huge fans of mac n cheese.  I could eat it every meal, but my children, not so much.  This bacon mac n cheese was THE BEST!  All three of the kids gobbled it up and have been asking when I'm going back to get more 😀  Another win for Mommy on the dinner train!
The third night I decided to make cheeseburgers and fries with America's Choice® Creations Black Angus bacon & cheddar burgers and peanut butter fudge truffle brownie.  I used Grissom's Mill hamburger buns and Mr. Tasty russet potatoes to make homemade fries!  I was able to pick all of this up, along with the tomatoes and lettuce for the burgers, while I was at Save-A-Lot.  These bacon & cheddar burgers were moist and thick.  They were full of flavor and easy to love!  The peanut butter truffle brownie, oh my goodness, was amazing!  There may or may not have been an argument about who got the biggest piece LOL All in all; I was able to, successfully, create three amazing full meals for my family of 5 in less than thirty minutes.  The clean up was a breeze and it cost less than $5 per person each night!  That is a win for this overworked, busy mom 😀
ABOUT SAVE-A-LOT
At Save-A-Lot, we keep our customer's budget in mind by offering up to 40% lower prices than conventional grocery stores. We're proud to offer fresh cut meat in-store everyday, quality fresh produce, and our exclusive brands at everyday low prices.
Great Food: We procure, distribute and market a carefully selected assortment of high quality food and household needs, emphasizing our own exclusive brands.
Great Prices: Our highly efficient supply chain enables us to sell at prices well below other retailers, and our customers can use the money they save for other things that are important to them; necessities or fun times.
Great People: We strive to provide a positive shopping experience in stores that are clean, well-stocked, fresh and staffed by friendly, helpful and respectful associates.  Find the closest store near you!
Now for the Giveaway!
Now for my very own giveaway!  I am giving away a $25 Save-A-Lot gift card to two very lucky readers!  All you have to do is leave a comment below telling me which one of the new America's Choice® Creations you are most looking forward to trying!  Winners will be chosen and announced on October 18, 2016!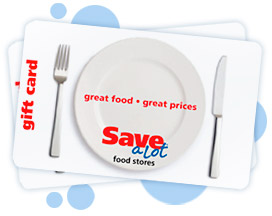 No purchase is necessary to enter. Void where prohibited by law. The odds of winning are based on the number of entries received Open to US, 18+ only. Confirmed Winner(s) (by Random.org) will be contacted by email. Winner(s) have 24 hours to respond before a new winner is chosen. No purchase necessary. Void where prohibited by law.  Acadiana's Thrifty Mom is responsible for product shipment/delivery. Please allow 4-6 weeks for delivery of prize. This event is in no way administered, sponsored, or endorsed by, or associated with, Facebook and/or Twitter, Google, Pinterest. This disclosure is done in accordance with the Federal Trade Commission 10 CFR, Part 255 Guides Concerning the Use of Endorsements and Testimonials in Advertising.
* * * Comments submitted may be displayed on other websites owned by the sponsoring brand. * * *