The Cast Of Pixels Will Have You Rolling #PixelsMovie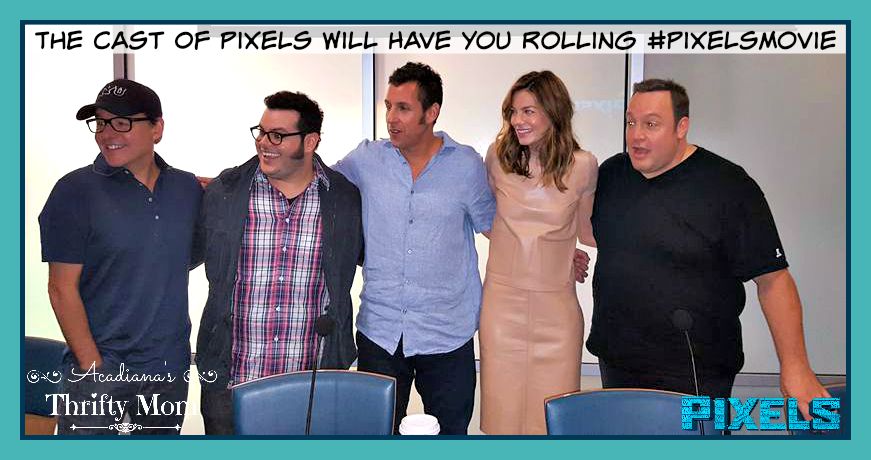 Okay y'all, I had the AMAZING opportunity to interview the cast of Sony's new movie Pixels.  I was in New York last week attending a conference and was invited to watch Pixels and interview Josh Gad, Kevin James, Michelle Monaghan, Adam Sandler, and Chris Columbus (Director) from the movie.  So, I had to think about it for a …. um ….NEVER!  I didn't have to think about it at all!  Hello!  Adam Sandler and Kevin James!  I was so stinkin' excited, I could hardly talk when it was my turn to ask questions!  I didn't know until I started studying for this junket that Pixels is the ninth film or television series that Kevin James and Adam Sandler have appeared in together.  This was Chris Columbus' first time working with Adam Sandler.  You could not tell by listening to them all talk.  This has to have been the most hilarious and fun press junket I have ever done!
Question:  What was it like working with Adam Sandler and Kevin James for the first time
Josh Gad:  It was a nightmare.  No, it was truly a dream come true.  The fact of the matter is that these guys have been idols of mine forever.  I grew up in the generation of Adam Sandler being on Saturday Night Live and watching it religiously.  That cast was my cast.  I just feel like Kevin and I are cut from the same cloth and I've always wanted to work with him.  The whole cast, everybody is just amazing.  Chris Columbus; enough can't be said about that he defined my childhood.  Goonies and Gremlins were the movies that defined Josh Gad and made me the national nightmare I am today!
Question:  Michelle, how did it feel playing the girl-power role?
Michelle Monaghan:  It felt awesome!  Really the job title and the name got me for this film.  She's Lieutenant Colonel Violet Van Patten.  I could not say no to that.  She's a weapons designer for the government and she gets to design this amazing weapon called the light cannon and that's what the arcaders use to defeat the aliens.  She's very cool, she's strong, she confident.  She has beauty, brains and brawn and that's what I love about her.

Photo credit: www.desktophdphotos.com
Question:  Did any of you play classic video games in preparation for this film?
Adam Sandler:  We all kind of grew up playing them.  We loved it.  It was our whole life growing up.  Right around 12, maybe  a little younger like 10, 11, 12 that was a big deal; the arcades opened up.  There were girls there you got to talk to.  There was food, some tough kids walking around that you were scared of.  I remember you got to take the bus.  Ours was downtown (the arcade); it was called The Electric Dream Factory just like in the movie.  You got on the bus, you went with a couple of your friends, you hung out, your parents gave you like a dollar.  You could choose to play one game and spend $0.75 on a McDonald's hamburger or play all four games and have nothing to eat.
Finally, it was time for me to ask a question:  How was it on the set every day?  It looks like it must have been crazy fun!
Adam Sandler (Yes, Adam Sandler answered my question!):  There was not a person that you hung with that you didn't have a good time with.
Kevin James (Yes, even Kevin James chimed in on my question!):  The craziest guy was Columbus the whole time.  We'd be working, literally, non-stop and at lunch when we'd all pass out; he goes for a 5 mile run.
Pixels story:
As kids in the 1980s, Sam Brenner (Adam Sandler), Will Cooper (Kevin James), Ludlow Lamonsoff (Josh Gad), and Eddie "The Fire Blaster" Plant (Peter Dinklage) saved the world thousands of times – at 25 cents a game in the video arcades. Now, they're going to have to do it for real. In Pixels, when intergalactic aliens discover video feeds of classic arcade games and misinterpret them as a declaration of war, they attack the Earth, using the video games as the models for their assaults — and now-U.S. President Cooper must call on his old-school arcade friends to save the world from being destroyed by PAC-MAN, Donkey Kong, Galaga, Centipede, and Space Invaders. Joining them is Lt. Col. Violet Van Patten (Michelle Monaghan), a specialist supplying the arcaders with unique weapons to fight the aliens.
Official Pixels Movie site
Follow Pixels Movie on Facebook
Follow Pixels Movie on Twitter
Pixels in theaters everywhere July 24!