Fun and Easy Minnie Mouse Diaper Cake #Disney
Y'all, this fun and easy Minnie Mouse diaper cake was so easy peasy to make!  You are going to love it.  My neighbor, who I made it for was so stinkin' excited to get it.  She absolutely loved it.  I'm not going to say it wasn't time consuming, because it was.  From start to finish, it took about two hours to complete.  I don't think it's that bad. Plus this is a homemade gift that comes from the heart.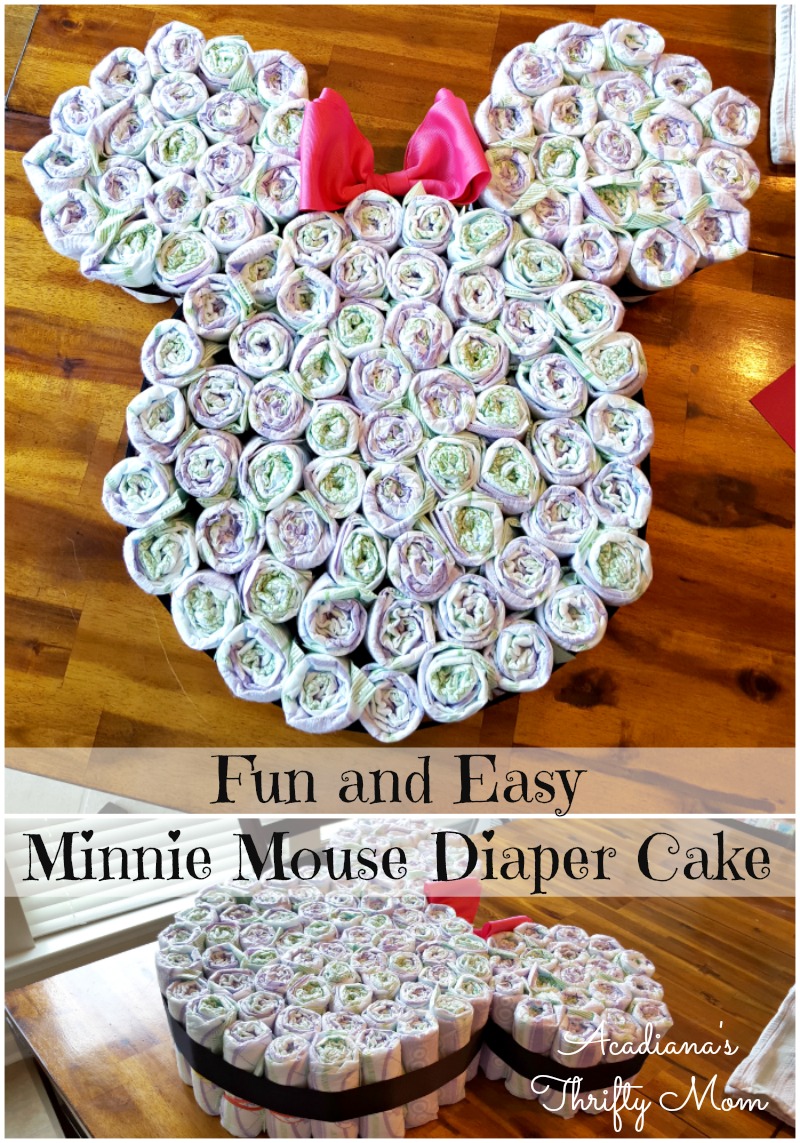 Since it took three and a half bags of diapers to make it, then the recipient will be getting about 115 diapers.  I used size 4 diapers.  I'm thinking that I'll use size 2 diapers the next time, which will make it a little lighter weight an maybe a little cuter.  I am very satisfied with how this one turned out though.  You can easily make this into a Mickey Mouse diaper cake as well, by adding a red bow to the bottom of the head as a bow-tie.  I hope you enjoy making it as much as we did.
Gather your supplies:
3 yards of 2 inch black ribbon
Hot glue gun with 3 glue sticks
Lots of rubber bands (I bought the dollar pack from Dollar General and had plenty)
115 diapers (which ever size you want, I think smaller sizes will work better)
Get to creating!
Roll each individual diaper from the center crease up as tightly as you can to make a roll like in the photo above.  Secure each roll with a rubber band wound tightly around it several times.
Start making a circle.  I made the inner circle with six diapers wrapped around one center diaper and wrapped a rubber band around that circle.
Next I started adding diapers, in a circle, to the outside of my first circle.  I added a new rubber band for each row.  For the ears I did 3 rows, including the center diaper.  For the face, I did 5 rows including the center circle.
Once you are finished with your final circle, wrap the circle of diapers with enough black ribbon to make the ribbon overlap by about 3 inches.  This will allow you to put three inches of hot glue and get great sticking power!  Carefully glue the ribbon to itself with the extra three inches of ribbon on the end.  Be sure to hold it very tight so it won't come undone and you'll have diapers everywhere.
Once you get all three circles created and wrapped with ribbon, you will hot glue the ears to the head.  This is done by using the hot glue gun to glue the black ribbon on the ears to the black ribbon on the head.  I made sure all of the seams of the ribbons were in this area, they could be easily hidden with the bow.
Make sure  Glue the bow to the top of the head on the black ribbon.  You can make your own bow or buy and already made bow.  I think next time we may experiment with making a bow from red poster board.
Check out these other great blog posts from Acadiana's Thrifty Mom:
https://acadianasthriftymom.com/2018/03/07/just-watched-new-teaser-trailer-christopher-robin/
https://acadianasthriftymom.com/2018/01/17/walt-disney-studios-motion-pictures-slate-2018/
https://acadianasthriftymom.com/2017/11/29/the-meaning-and-love-behind-the-music-of-disneypixar-coco/