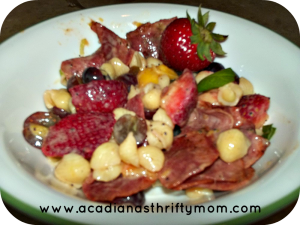 This is quite possibly the BEST pasta salad EVER! I adapted it from a recipe I found on Pinterest. As many of you know, I find great recipes then adapt them to what I have in my kitchen and make it my own 🙂  Ignore how the ingredients may sound combined together and go ahead and try it! You'll be happy you did! 😀
~ Gather your ingredients:
4 pasta (we used small shells), cooked, drained and cooled
2 pkg. (6 oz. each) turkey bacon, prepared and chopped into bite size pieces
2 cups fresh strawberries, sliced
2 cups seedless red grapes, halved
2  mangos cut into bite size pieces
1 green onion, chopped
2 Tbsp. chopped mint leaves
3/4 cup KRAFT Creamy Poppyseed Dressing
~ COMBINE all ingredients.
~ REFRIGERATE
~ ENJOY!