Southern Chocolate Gravy
My Mamaw Moore used to make chocolate gravy. She's really the only person I ever knew who made it and it was delicious! My mother was always quite impressed with it, so I went on a mission to try and duplicate it. After perusing my pantry one day and deciding to use my best judgement for ingredients; I came up with a real winner! This gravy is delicious on biscuits. I would imagine it would be excellent on waffles, pancakes, ice cream, or really anything you would put hot fudge topping on. I hope you enjoy it as much as we do!
Gather your ingredients:
1 stick salted butter
1 square of baker's chocolate
1 tsp of vanilla
1 1/2 c sugar
1 c flour
3 c milk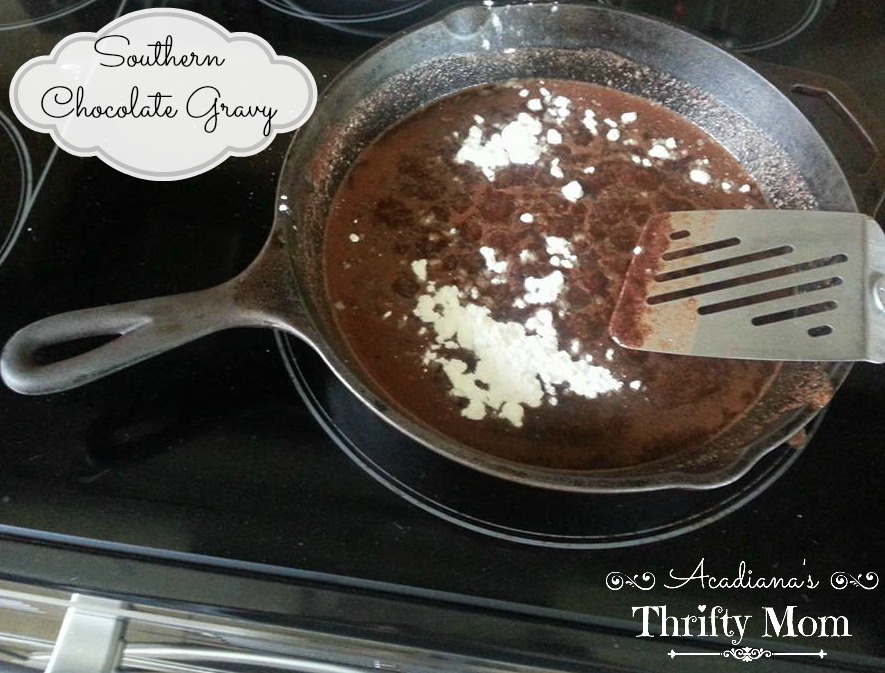 Get to cooking!
Melt butter and baker's chocolate in iron skillet (or sauce pan) on medium heat, stirring constantly.
Add sugar and stir for about 2 minutes.
Add flour and stir for about 2 minutes.
Add milk 1/2 cup at a time stirring constantly. You can add more or less milk, depending on your consistency preference.
Spread over biscuits and ENJOY!
Be sure to try my favorite biscuit recipe ever!