So Much Fun At Sky Zone Lafayette! #SkyZoneLafayette
Guess what y'all?  We went to the new Sky Zone in Lafayette, LA!  We watched as it was being renovated from a shoe store into Sky Zone.  We weren't real sure what to think.  My son came home from school a couple of times talking about his friends going and how he wanted to go and I told him we'd go in the summer.  Finally, the summer is here and it was time for me to stick to my word!  What did I think before we went to Sky Zone?  Honestly?  "Wow!  Trampolines!  They'll be bored and fighting again in 15 minutes…"  I can tell you that couldn't have been further from the truth.  We got the 90 minute jump package and I really thought they would be bored long before their time was up, but I was WRONG!  They didn't want to leave.  We got there at 12:30 and I looked down at my phone at 1:45 and freaked out a bit.  It seemed like we had just gotten there and I knew the kids were nowhere near ready to leave.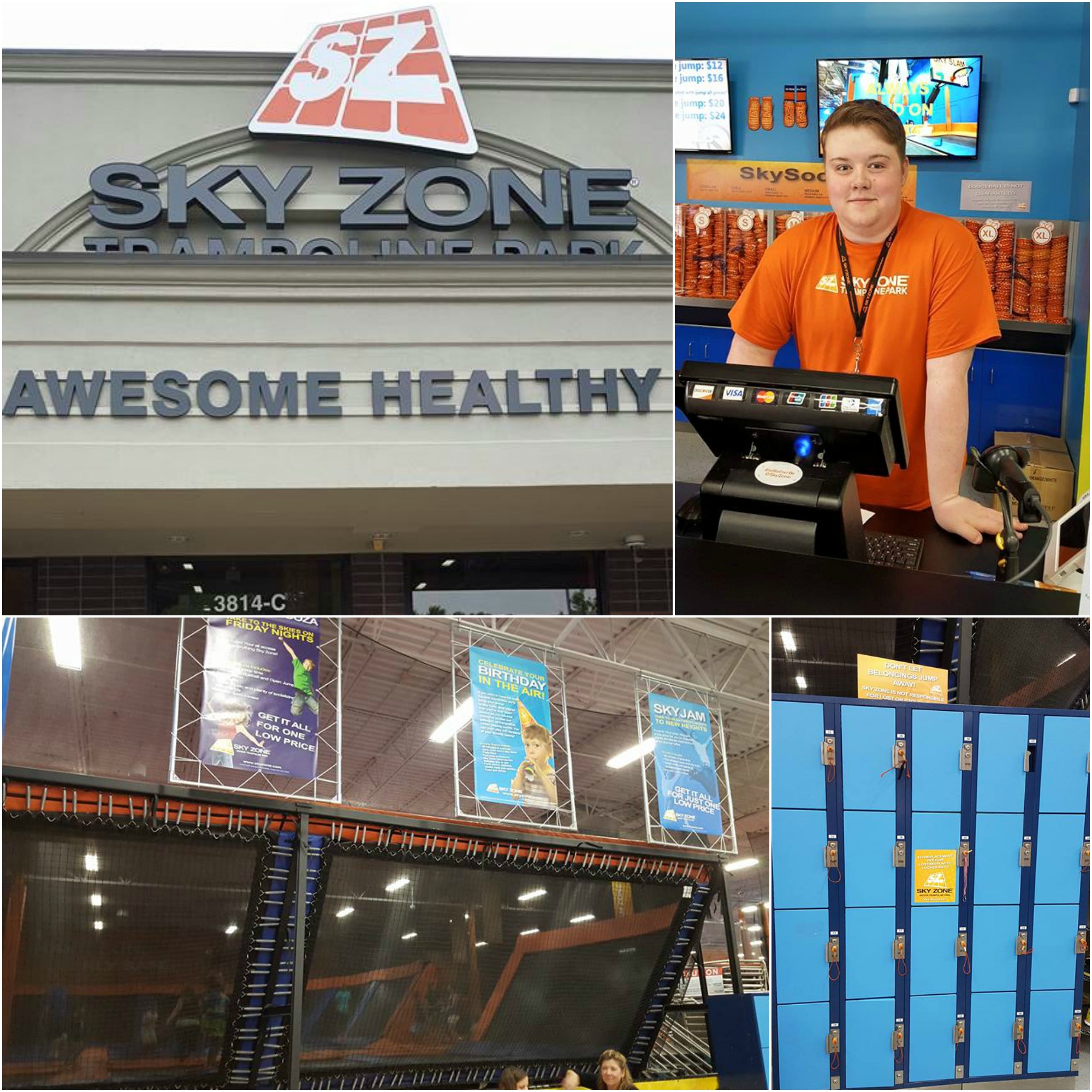 I can also tell you that what I expected when I walked into Sky Zone was nothing compared to what was actually there.  The biggest difference in what I had in my mind and what was actually there was the cleanliness of the facility.  I was expecting a locker room look, feel and smell.  Well, it did look a bit like a very clean locker room and it kind of felt like one with the kids playing and jumping, but the smell y'all; the smell!  The smell of Sky Zone was heavenly.  Okay, I am a little obsessed with smells and if a place stinks, I won't go back, but Sky Zone….I don't know what they have filtering through those vents, but it smells AHHHH-MAZING!  This is what you can expect when you walk into Sky Zone in Lafayette.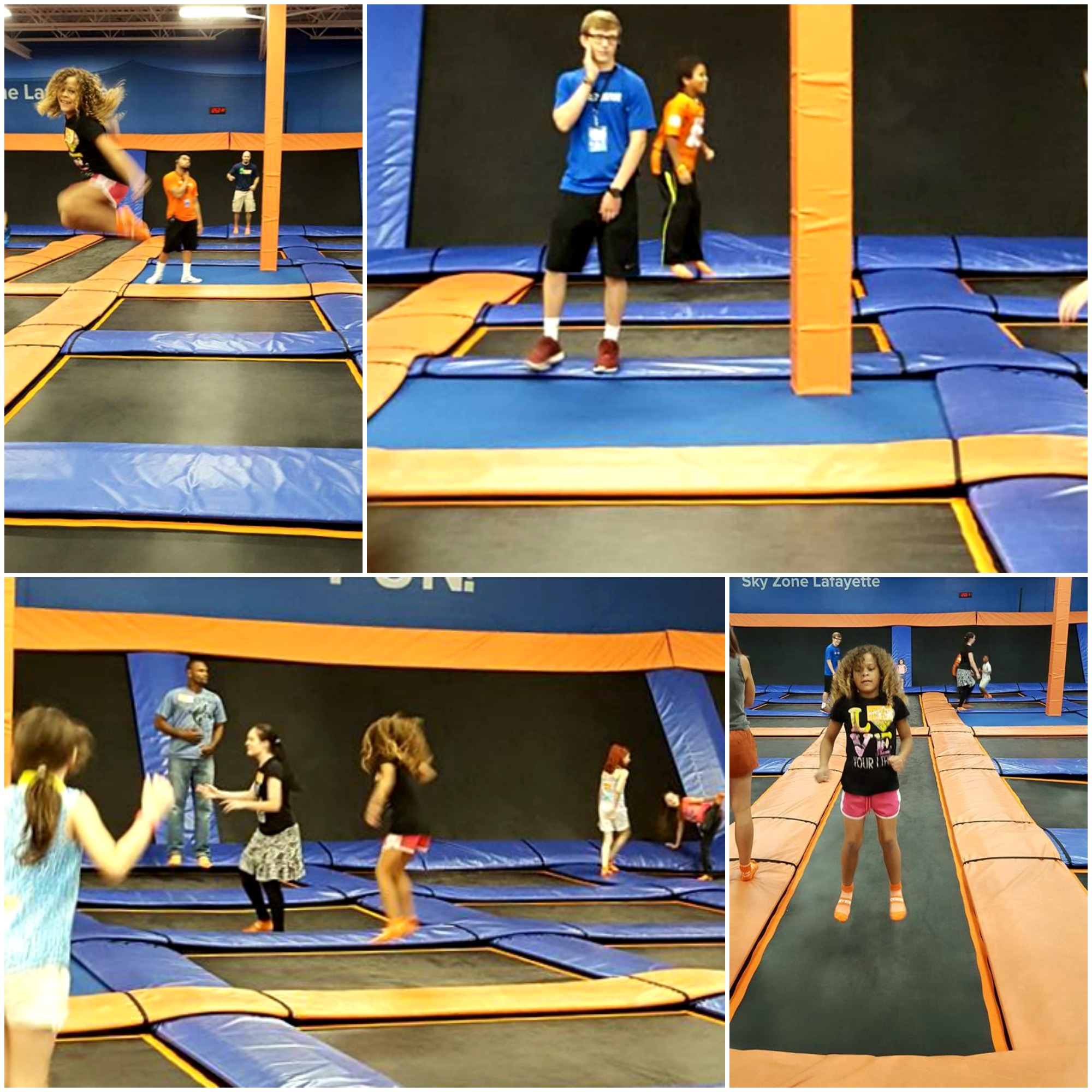 So, what is Sky Zone?
Sky Zone is the world's first indoor trampoline park. We're the inventors of "fun fitness" and the makers of trampolines as far as the eye can see. We give you one of the greatest workouts ever combined with awesome, healthy fun. We've been voted the number one "out of the box" workout and the "best party ever." Experience WOW – the weightlessness of bouncing, flipping and landing in a pit filled with over 7,000 foam cubes.
We are dedicated to providing you with the pure joy that comes with flying. We are sky lovers, thrill seekers and people who believe that jumping is freedom. We believe fitness can be fun and play can be smart. We are healthy and bursting with energy. We fly high and keep it safe. We are Sky Zone. ~ Sky Zone
Okay, then there was Sky Slam. Sky slam was a runway of sorts made of a trampoline.  There is a basketball goal at the end for the kids to slam dunk into.  But what about the grown ups?  I'm so happy you asked!  You can play too!  Anyone who is physically able can jump at Sky Zone and, trust me, you will want to.
Then there's the foam pit full of foam squares to jump into.  That was a lot of fun for all of the kids.  As you can see, they were practicing their flips!
You can even have birthday parties at Sky Zone!  Hannah will be 9 next month and is dying to go back to Sky Zone.  I guess we'll have to see if we'll make it back.  The party room is super cool!  You can find out more about their party rooms here 🙂
HAVE FUN, FLY SAFE!
Sky Zone is designed for everyone, and we want to make sure you fly safe. We ask that you become familiar with and abide by the rules below. Remember, stay in your comfort zone! DO NOT ATTEMPT any activity, flip, jump or trick you don't think you can handle. Flips or other tricks can be dangerous … perform at your own risk. Sky Zone Team Members help ensure that rules and regulations are followed. Jumpers should not engage in court activities without a Zone Team Member present. Here are the rules to fly by:
**Everyone that enters the Sky Zone court must have completed a valid and signed Sky Zone waiver. Those under 18 must have it signed/completed by their parent, legal guardian, or someone with power of attorney.**
As we're leaving, the kids noticed this huge ball with tons of jump pass stickers stuck to it.  What a great idea!  It's fun for the kids to stick their pass on there and a great way to keep from putting the stickers into the laundry  🙂  This trip was so much fun and we cannot wait to be invited back!
Follow Sky Zone Lafayette on Facebook
Follow Sky Zone on Twitter