Slow Cooker Hot Apple Cider
I'm going to be honest with y'all, this slow cooker hot apple cider is my regular hot apple cider recipe that I adapted to my slow cooker.  I love cooking holiday beverages in the slow cooker because I can leave them on warm all day while people are coming in and out and they will have a warm drink all day long.  This hot apple cider will make your house smell amazing and get everyone in the holiday mood!  We always make this when we're decorating Christmas cookies.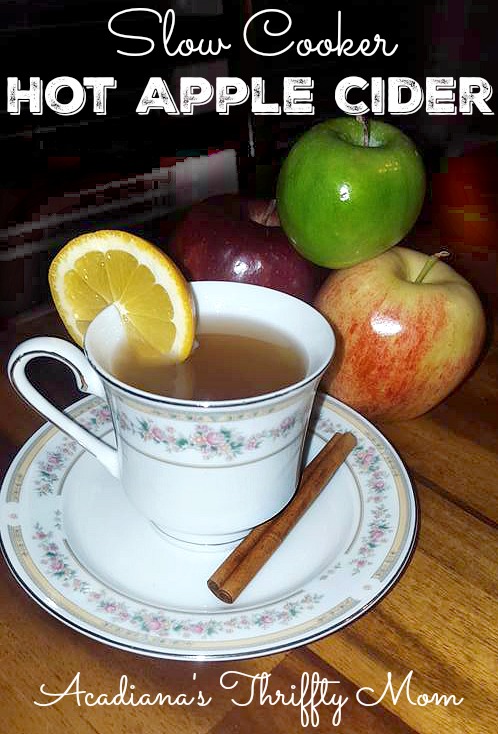 Gather your ingredients:
6 medium/large apples (I use whatever is on sale)
1 small orange
1 vanilla bean or 2 tsp vanilla extract
2 cinnamon sticks or 2 tsp ground cinnamon
3 whole cloves
1/2 cup granulated sugar
cheese cloth or fine strainer
Get to cooking:
Cut the apples and orange into quarters and add to the crock pot.
Add cinnamon sticks, vanilla bean, and cloves. Add enough water to cover the fruit.
Cook on high heat 3-4 hours.
After the cider is finished cooking, carefully scoop out the fruit and strain the liquid into a heat-proof bowl.
Once all of the particles are strained out of the liquid, add the liquid back to the crock pot to keep warm and discard the solids.
Add 2 cups of water and sugar.  I used 1/2 cup of sugar, but you can adjust to your, personal, taste.
Keep in crock pot on "warm" all day 🙂  You can refrigerate for about a week or freeze for several months.