Santa Hat Cupcakes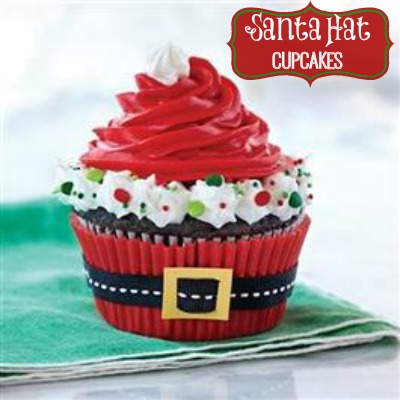 Photo Credit: Pillsbury
Oh my goodness, these are cute!  I have a feeling they will be a lot of fun for the kids to help me decorate too 😀  There are so many directions you could go with these.  How about chocolate icing with a little red ball of icing on the top to make "Rudolph cupcakes"?  That would be adorable and all you'd have to add are come candy eyes.  Okay, maybe I'm getting a little carried away here, but you get the picture.  Hobby Lobby is my favorite store for holiday decorating and baking.  I'm sure this year will be no different.  I hope y'all enjoy this recipe as much as we did.
Ingredients:
1 package Pillsbury® Moist Supreme® Dark Chocolate Flavored Premium Cake Mix
1 cup water
3 large eggs
1 container Pillsbury® Creamy Supreme® Vanilla Flavored Frosting
You can find the full list of ingredients and recipe over at Pillsbury!