Rolo Pecan Pretzels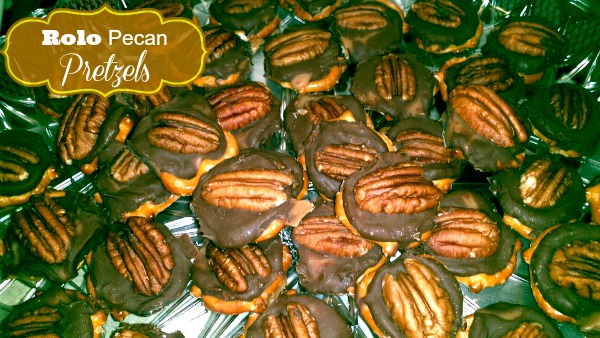 Here is another GREAT treat we love to use for gatherings and as gifts! These are super easy to make and everyone will RAVE about them.
Gather your supplies:
1 bag Rolos Candy
1 bag Mini Pretzels (either square or twists)
1 #pecan halves
Get started:
Spread pecan halves on baking sheet and toast in a preheated oven at 350 degrees for 10-15 minutes.
Remove pecan halves from the oven and allow to cool.
Spread pretzels (salt side up) on a baking sheet lined with non-stick foil or parchment paper.
Top each pretzel with 1 Rolo Candy.
Place the candy topped pretzels in a preheated 300 degree oven for 5-7 minutes. The Rolo's will be soft, but not melted.
Carefully remove the pretzels from the oven and quickly place 1 pecan half on each Rolo topped pretzel and gently press down. Be very careful not to burn yourself while pressing the pecan halves into the candy.
Allow to cool for 1 hour before serving.
ENJOY!