Red, White and Blue Snowcone Cupcakes
Red, White and Blue Snowcone Cupcakes. Again, I was surfing Pinterest and just HAD to try my own version of this super cute recipe. I have dumbed it down for my own taste. Y'all know how I love simple. These are perfect for Memorial Day or Forth of July. I also love homemade icing, so you will notice that I use the same icing recipe a LOT 🙂 Here we go!
Gather your ingredients:
1 box white cake mix (you can substitute your favorite)
1/3 cup vegetable oil
3 egg whites
2/3 cup water
1 package cream cheese
3 cups powdered sugar
1 tsp almond extract
Blue food coloring
Red food coloring
Cupcake pan
Cupcake pan liners
Red, white & blue sugar crystals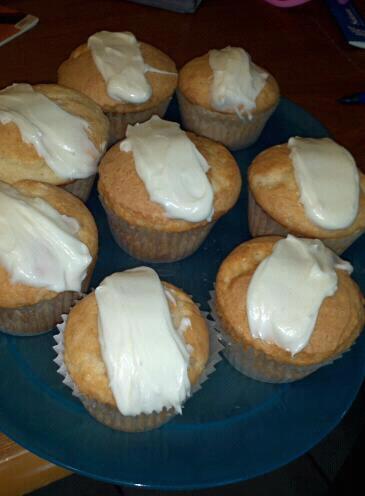 Mix the cake mix as directed on the package and pour into cupcake pan (with liners already in place). Fill each liner 2/3 full with batter. A great tip on getting your cupcakes to release from the liners when eating is to spray the liners with non-stick cooking spray before filling with cake batter.
Bake cupcakes for approximately 20 minutes or until a knife inserted into the middle comes out clean. Remove cupcakes from oven and allow to cool.
While cupcakes are baking mix the cream cheese (room temperature) and powdered suger on low speed until well blended.
Divide the icing into 3 equal parts and place in 3 separate, small mixing bowls. Drop 20-30 drops of blue food coloring into 1 bowl of icing and 20-30 drops of red food coloring into another bowl of icing. Leave the third bowl of icing white. Mix each bowl of icing until the color is well blended.
Using a butter knife or spreader, spread a stripe of white icing down the middle of each cupcake. Next spread blue down one side of each cupcake then blue down the other side.
Sprinkle the white stripe with white sugar crystals, red stripe with red sugar crystals, and blue stripe with blue sugar crystals.
Place each cupcake in a cup of your choice and pop a straw in the top and VOILA! You have cupcakes that look like snowcones
ENJOY!