Put The Super Back In SuperMom With Lucky Charms Frosted Flakes #NewYearNewCereal
General Mills sponsored this post, but the opinions are my own.
If you're like me, you're in a constant search for the perfect school morning breakfast.  General Mills cereals have made breakfast a little less stressful with their new varieties of great cereals my kids LOVE! I'm never at home for breakfast on school days.  I'm a teacher, but my children's school starts an hour after my school starts.  This makes it even more important for me to trust that they are getting a great breakfast that they love.  New Lucky Charms Frosted Flakes by General Mills is just that and more!
It is a new year and now we have a new favorite cereal in our house!  Lucky Charms Frosted Flakes combines two of our favorite cereals into one perfect combination.  With sports practice and games every school night and many weekends, Lucky Charms Frosted Flakes also makes a great snack for my growing, active kiddos!  Combining a great bowl of cereal with milk and their favorite fruit is a great way to make sure they get what they need.  Their bodies will stay fueled and they love the way it tastes.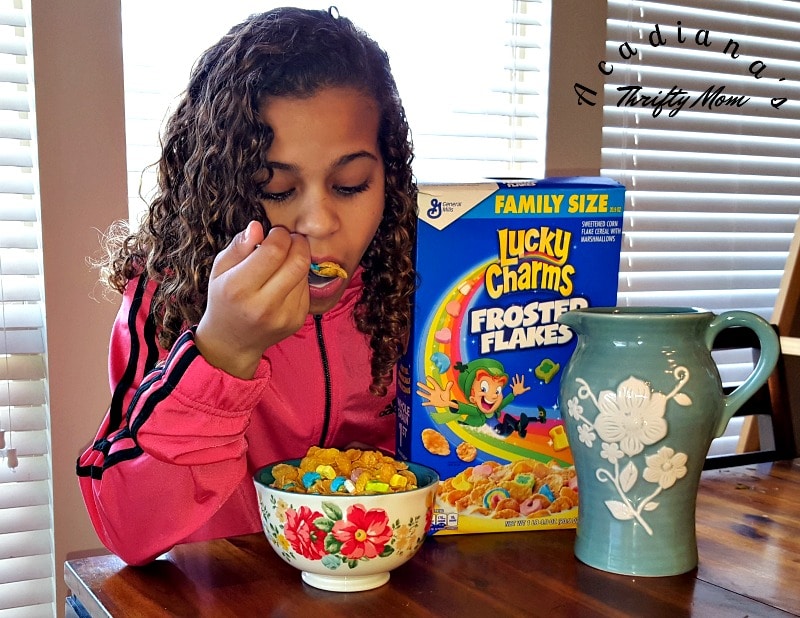 The first half of the school year is officially under our belts. A new start to their day is just the boost my kids needed to help push them through the rest of the school year.  The first half was long and tiring, but the second half of school always seems to fly by.  There are more practices, games, and summer on the horizon!  The first semester seemed to trample on my Superwoman status, but now I'm going to get it back, and a great breakfast is just the boost any Supermom needs!   There are more great new cereals from General Mills to get your new year going in the right direction.  Give the new Banana Nut Cheerios and Chocolate Peanut Butter Cheerios a try as well.  They're all available at Walmart.  
Breakfast time just got tastier and easier! Put your creative hat on with NEW General Mills cereals to make the return to school easier than ever before!
When buying a General Mills cereal at Walmart, be sure to check out the new merchandise offer! Buy 5 items, scan your receipt with the Box Tops Bonus App and earn 50 Bonus Box Tops! Help earn cash for your kid's school!