Pumpkin Cheesecake with Gingersnap Crust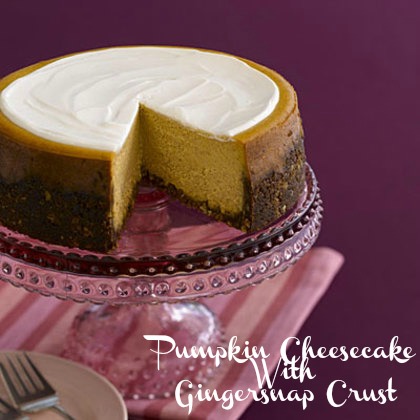 Photo Credit: All You
OH yes!  We love cheesecake and we love pumpkin.  What better combination of the two than this Pumpkin Cheesecake with Gingersnap Crust?!  This is going to be a huge hit at our holiday gatherings.  I always try to take something new and different every year and this will be perfect!  I hope you enjoy this recipe as much as we did!
Ingredients
1 1/2 cups gingersnap cookie crumbs (from about 30 cookies)
1/2 cup finely chopped pecans
6 tablespoons unsalted butter, melted
1/4 cup sugar
1/2 cup packed light brown sugar
1/4 cup sugar
2 large eggs plus 2 large egg yolks, at room temperature
You can find a full list of ingredients and recipe over at All You!