This Peruvian chicken with Green sauce (Aji Verdi) is life changing! I first had Aji Verdi (Peruvian green sauce) when a neighbor of ours was selling tacos out of her kitchen. She served them with this mysterious green sauce. I set out to find this Mexican green sauce and could never find it. Then, one day, a friend of mine made Peruvian chicken and shared some of the recipe with me. I did a little online search for Peruvian chicken and every recipe had this green sauce.
Jump to Recipe
So, off I went to create my own version of Peruvian chicken and green sauce that my family would love. This is not always easy, especially with super specific recipes that use so many fresh ingredients. I will tell you, though, I knocked this one out of the park! We are now eating Peruvian chicken every month in our house. Making the marinade and green sauce doesn't even seem like a chore at all anymore. One of the best parts about it is that chicken leg quarters can be found on sale super cheap and work great with this recipe.
Jump to Recipe
All 3 of the kids love my version of this recipe. Although the green sauce calls for fresh jalapenos, it is a fairly mild sauce. Once you remove the seeds and ribs from the inside of the pepper; it is pretty mild. I urge you to give it a try, even if you think it may not be for you. There is a lot of cilantro in this recipe, so if you have an aversion to cilantro; you might want to skip this recipe all together or use regular parsley in place of the cilantro.
Gather your ingredients:
4-5 lbs chicken (I use legs and thighs)
10 garlic cloves
1/2 cup soy sauce
4 tablespoon lime juice
1 Tbsp chili powder
1 Tbsp ground cumin
2 tsp paprika
2 Tbsp olive oil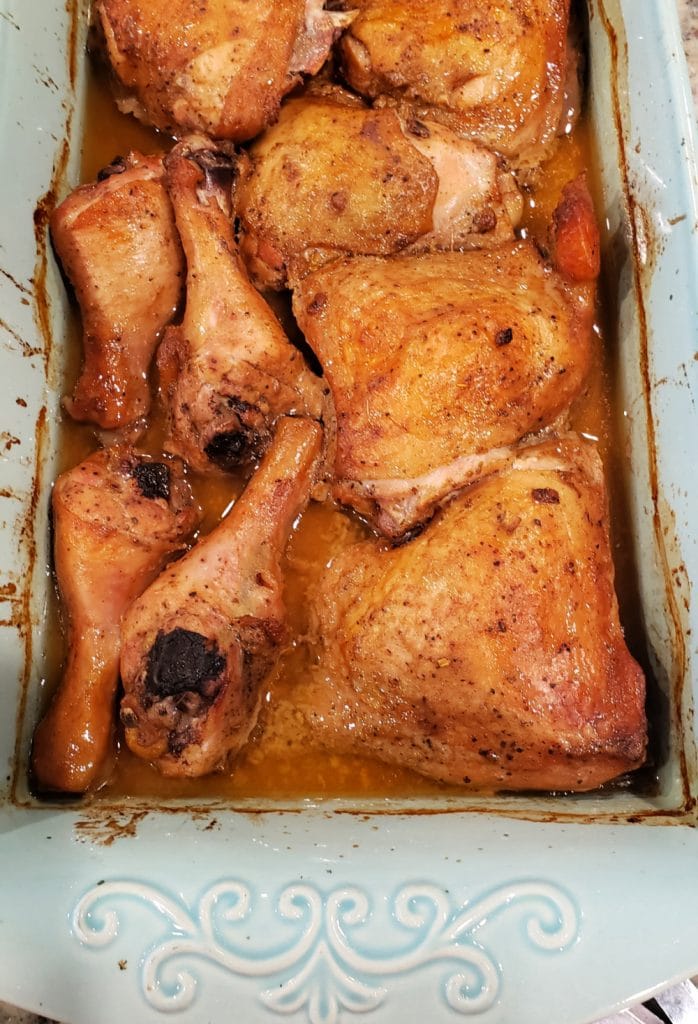 You can either blend the ingredients together in a traditional blender or, like I did, use your Ninja! I did end up using my traditional blender for the sauce because it makes a lot. I love using my Ninja though. I also usually double this recipe because I use the 10 pound bags of chicken leg quarters and cut them in to leg and thigh portions. I find these on sale for less than 50 cents a pound often and they are perfect for this recipe.
For the sauce:
1 cup mayonnaise
2 bunches (about 4 cups) cilantro, chopped without stems
4 medium jalapenos with seeds and ribs removed
4 cloves garlic
1/2 cup Cotija or parmesan cheese
2 Tbsp lime juice
Again, you can use your Ninja or a traditional blender. If you love this sauce like we do; you'll always want to make a double or triple batch and eat it on, literally, everything! Our youngest daughter begs me to make this Peruvian green sauce and I will, sometimes, make it even when I'm not making the Peruvian chicken with it.
We serve Peruvian with several different sides, but a tortilla is always a must. You can use any kind of tortilla you like. I love eating Mexican rice or Mexican street corn with this dish. It also pairs great with any side salad you love. Get creative and make it your own. Be sure to come back and share with us how you used this recipe and what you love about it.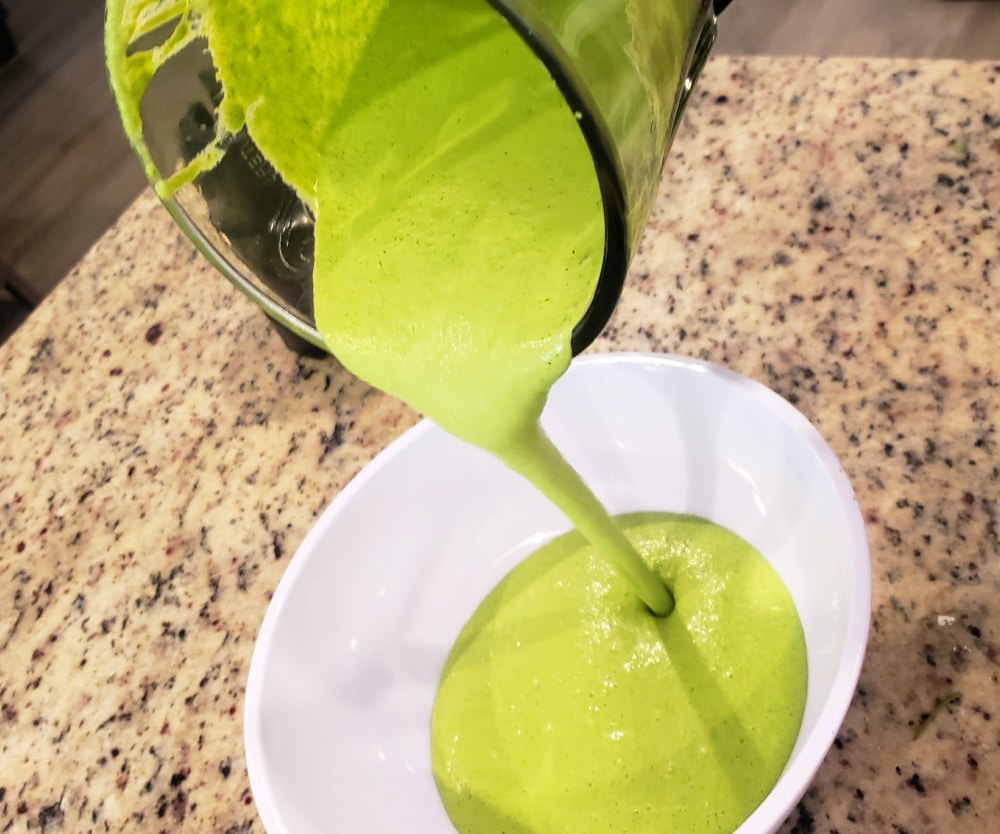 You can keep the green sauce in the refrigerator for a week. This sauce has so many uses along with this chicken. It is great on tacos, buritos, nachos, or even burgers! My kids find a million ways to eat it. I make a double batch every time I make this dish because my kids beg for it. I tease that I could give them a staw and they would drink the sauce right out of the serving bowl! I hope you enjoy and let me know how you like this!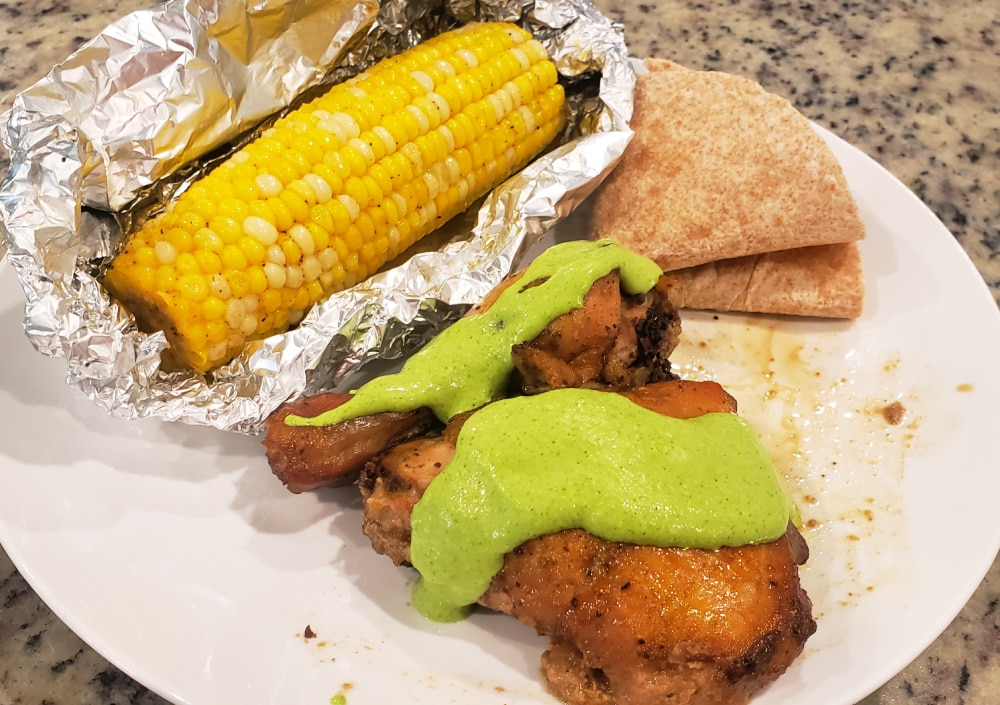 Peruvian Chicken with Green Sauce
This chicken is great baked or on the grill
Ingredients
Chicken
4-5

lbs

Chicken (I use legs and thighs)

10

cloves

Garlic

1/2

cup

Soy sauce

4

Tbsp

Lime juice

1

Tbsp

Chili powder

1

Tbsp

Ground cumin

2

tsp

Paprika

1/8

cup

Olive oil
Green Sauce
1

cup

Mayonnaise

1/2

tsp

Ground cumin

2

bunches

Cilantro, chopped without stems

(about 4 cups)

4

medium

Jalapenos with seeds and ribs removed

4

cloves

Garlic

1/2

cup

Cotija or parmesan cheese

2

Tbsp

Lime juice
Instructions
Preheat your oven to 400 degrees F.

Place all of the ingredients for the chicken into your blender or ninja food processor. I like to use my ninja as it is easier to clean. Blend until smooth.

Place your chicken in a container with a cover and pour the marinade all over the chicken. I use a container that is water tight, which allows me to shake and flip it over after about an hour to ensure even coating. Allow the chicken to sit in the marinade for 2-4 hours before cooking.

Pour the chicken and sauce into an oven safe dish. I like to prepare my dish with non-stick cooking spray before adding the chicken and sauce.

Cover dish with foil and place in the oven for 45 minutes. I also spray my foil with non-stick cooking spray before covering the chicken. This makes for a much cleaner cooking experience.

Carefully remove the dish from the oven and remove the foil then place the dish with the chicken back in the oven for about 20 minutes Place the dish with the chicken back in the oven for 20 minutes until it is golden brown.
Green sauce
Place all of the ingredients for the sauce in the blender and blend until smooth.

Pour sauce into a serving dish and serve with or over Peruvian chicken.

You can store the sauce in the refrigerator for a week.