Chocolate-Peanut Butter Swirl Cake
Do you have a peanut butter lover in your house?  How about a chocolate lover?  Well, my entire house loves chocolate and peanut butter, and this recipe will be PERFECT!  Can you overdo peanut butter and chocolate?  I don't think so 😀  I wonder if it will be too much for breakfast LOL  I hope you enjoy this recipe as much as we did!
Ingredients
1 box your favorite yellow cake mix
1 cup water
4 eggs
1/2 cup creamy peanut butter
1/4 cup butter, softened
1/2 cup chocolate-flavor syrup
Toppings
3 tablespoons creamy peanut butter
2 to 3 tablespoons milk
1 cup powdered sugar
2 tablespoons chocolate-flavor syrup
20 miniature chocolate-covered peanut butter cup candies, unwrapped, cut in half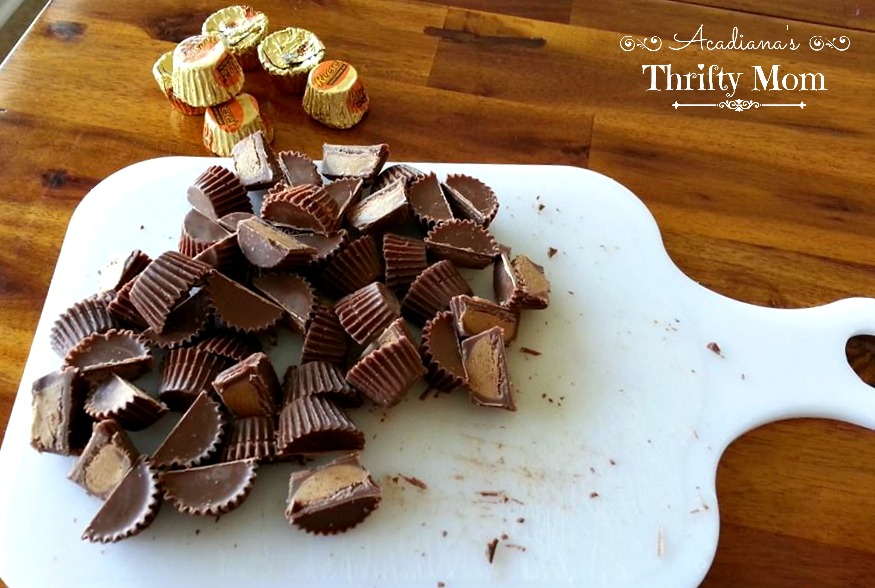 Get to baking!
Preheat oven to 350°F. Spray 2 8 X 4 inch pans with non-stick baking spray. In large bowl, beat cake mix, water, eggs, 1/2 cup peanut butter and the butter with electric mixer on low 30 speed seconds, then on medium speed 2 minutes.
Remove 1/2 cup of the batter to medium bowl; stir in 1/2 cup chocolate syrup to make chocolate fudge batter.
Pour half of the peanut butter batter evenly in loaf pans (one-fourth of batter in each pan). Spoon chocolate fudge batter onto peanut butter batter in pans. Spoon and spread remaining peanut butter batter evenly over pans. Swirl with knife or spoon.
Bake 45 to 50 minutes or until toothpick inserted in center of each loaf comes out clean. Allow cakes to cool.
In medium bowl, beat 3 tablespoons peanut butter and 2 tablespoons milk with whisk until smooth. Add powdered sugar; mix until smooth. If necessary, gradually add additional 1 tablespoon milk until glaze is desired consistency. Divide glaze between 2 small bowls. In 1 bowl, stir in 2 tablespoons chocolate syrup until well blended. Drizzle peanut butter and chocolate glazes over cakes; sprinkle with peanut butter cups.
ENJOY!
Adapted from a recipe from Betty Crocker 🙂