About Dixie Stampede:
  Searching for family fun and adventure during your vacation in the Great Smoky Mountains of Tennessee? Join Dolly Parton's 
Dixie Stampede
 Dinner Attraction in Pigeon Forge, TN for a family feast and fantastic show fun for all ages. Filled with friendly North and South competition, thrilling horse riding stunts, spectacular special effects, phenomenal musical productions plus a mouth-watering four-course feast 
complete
 with a delicious dessert!
Our visit to Dixie Stampede:
Okay, this show was AMAZING!  From the pre-show entertainment down to the warm towel you get at the end of your meal; this show is PERFECT!  I am from Tennessee, so being a Dolly Parton fan was never an option LOL  I do love Dolly though and this show did not disappoint.
Before the show, there was a very cool comedic blue grass/country band.  This was so entertaining even my kids could enjoy!
During the show there were many exciting moments, but I don't think any were as exciting as the horse jumping through the ring of fire!
Then there was dinner! OH MY GOODNESS!  It was a constant stream of wonderful food!  It started with a creamy vegetable soup and cheese biscuit.  Next came the chicken, WHOLE CHICKEN!  Yes, they serve everyone (even children) a whole rotisserie chicken that is the best chicken I have ever tasted, honestly.  Next is a pork loin, potato, and corn on the cob.  We all took a to-go bag home 😀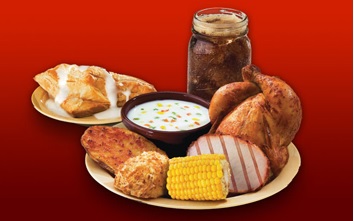 The end of the show was the best!  The end is very patriotic filled with singing and fireworks. I have to admit that I cried.  I feel so blessed to have had the opportunity to share this experience with my family.