This New Year Pizza Recipe may be my simplest recipe yet. I kind of feel guilty calling it a recipe. All of the parts to this recipe were store bought and I just put them all together to make this super adorable New Year pizza!
You can be just as creative as you want to be with this one. I'm probably going to make another one this year just because it is so versatile. I'm going to make each number a different type of pizza so that everyone in the family gets their favorite toppings. Genius, right?!
You can do it too and it is so super easy. You can thank me later! I was thinking, last week; "I wonder if I could make numbers with pizza dough and have that for a New Year's Eve finger food? So, I googled "New Year pizza numbers" and lo and behold, there were tons of pictures of people doing just that!
Below in the ingredients; I'm only adding the ingredients I used. You can add whatever ingredients you like! I'm even thinking I may make a dessert pizza with cinnamon and sugar, fresh fruit, or pie filling. You can really go any direction with this and make as many as you want. When you're extra, like I am, this could easily get out of hand. I'm already thinking about how I can spell my kids' names like this for their birthdays. Okay, okay, maybe I won't go that far. Have fun with it! Make it your own and be sure to sure with me when you make your very own pizza numbers.
I used the method of forming numbers from strips of pizza dough. Some people lay the pizza dough out and cut the shapes of the letters from the dough. I found it fairly easy to create my numbers this way, but you may like trying it the other way.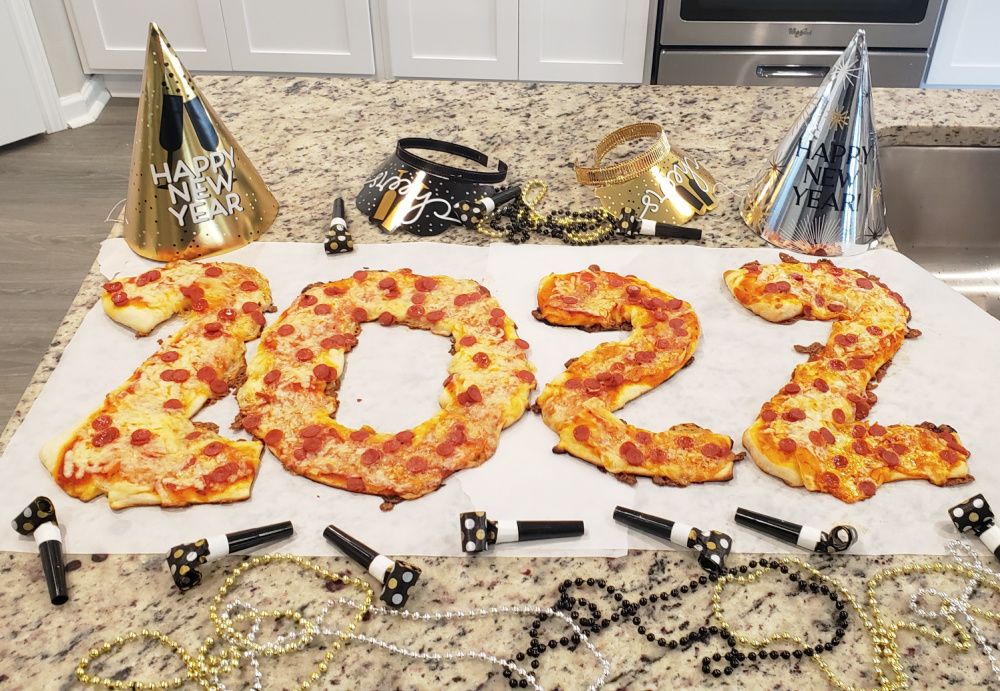 Gather your ingredients:
2 cans pizza dough
2 cups your favorite pizza sauce
8 oz shredded mozzarella cheese
5 oz mini pepperoni
Get to baking:
Preheat oven to 45 degrees Fahrenheit.
Lay out your first pizza dough on a cutting board and cut it into 4 even sections, lengthwise.
Line 2-3 baking sheets with foil or parchment paper. I used 1 large baking sheet that was large enough to bake 2 numbers on and used 2 smaller baking sheets that were large enough for 1 number each. I also used foil and sprayed it with non-stick cooking spray.
Lay out your first strip of pizza dough, flat on the prepared baking sheet, in the shape of the number 2. I cut one of my long strips into 3 smaller strips to make the flat part of the number 2. Just play with it and see what works best for you.
Next add your pizza sauce. Spread pizza sauce on the dough numbers to your taste. You can put as much or as little as you like.
Next add your cheese to the letters and top with pepperoni.
Bake the letters in your preheated oven for 15 minutes or until the cheese is bubbling.
Carefully remove the letters from the oven and place onto a serving surface large enough to hold all 4 letters. I rolled parchment paper onto my counter tops and placed the letters on the paper. It turned out beautifully.