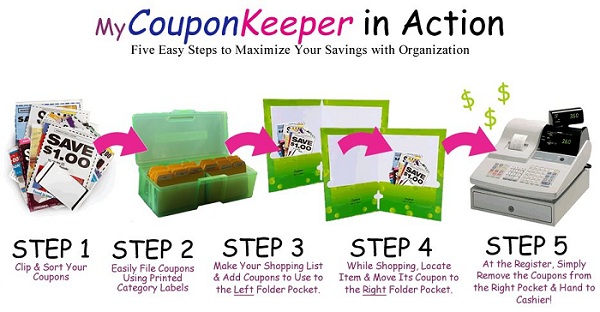 How exciting is this?! Acadiana's Thrifty Mom was given the privilege to review, keep, and give away the MyCouponKeeper coupon organizing system! I knew it was coming, so when the box was delivered, I TORE IT OPEN! I have been using a coupon binder for years and wanted to try a new system, but was too lazy/busy to do it. Well, this system sure gave me just the incentive I needed to get it going! The system that I received and will be given away includes:
-MyCouponKeeper™ Coupon Box 14.9″W x 6.9″D x 4.75″H
-2 adjustable dividers to support coupons in box when not full 3.2″x7.2″
– 3 MyCouponKeeper™ Purse Size Shopping Folders 6″ x 8″
– 48 Durable PVC Coupon Guides
– 55 Durable Pre-printed Category Labels to Choose From
– 1 MyCouponKeeper™ Reusable Shopping Bag
How cool is it that it comes with it's own bag (which it fits in perfectly).
I got to work right away labeling my dividers and sorting coupons! My kids had so much fun helping, I think it was because of their natural obsession with stickers LOL There is not 1 thing about the system that I don't ABSOLUTELY ADORE!  Oddly though, my favorite part of the system is the purse size shopping folders LOL  I stuck one of these in my purse as I was headed in the grocery store and was able to keep all of my coupons organized without being overly obvious about being a coupon addict LOL  The coupon box fit perfectly between the front seats of my Honda and is waterproof which is PERFECT for this Mom of 3!  Overall; I would give this system 2 thumbs up and a 10 out of 10!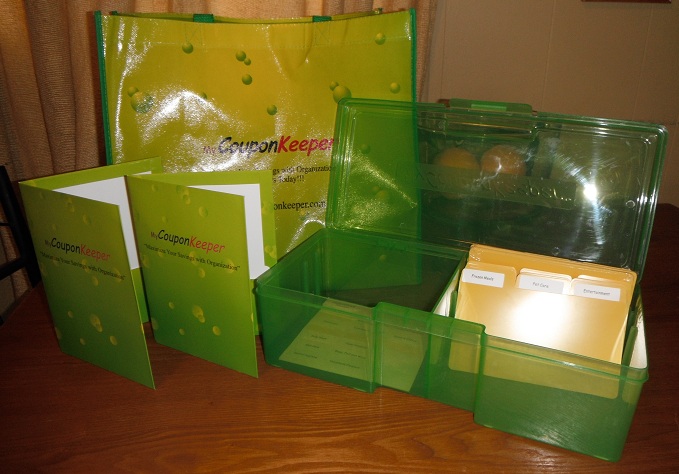 You can purchase your very own MyCouponKeeper system HERE! or enter to win one in the rafflecopter below 🙂
This giveaway is for a MyCouponKeeper Deluxe System is sponsored by MyCouponKeeper and hosted by Acadiana's Thrifty Mom and other GREAT blogs! Simple enter the rafflecopter below and GOOD LUCK!

a Rafflecopter giveaway