Okay, I don't really have a Chrysler Town and Country, but I sure do wish I did. I was given the amazing opportunity, by Acadiana Dodge Chrysler Jeep Ram, to drive their 2014 Chrysler Town and Country on our family vacation!  I can tell you that, without this van, our vacation would not have been nearly as memorable.  When we picked up the van from the dealership it had eight miles on it!  YES, eight miles!  Blaine was super nice and accommodating and wanted us to have the newest van available.  Our van was white with black interior which made it super easy to clean.  When we turned the van back in to Acadiana Dodge, Chrysler, Jeep, Ram; it had almost 2,000 miles on it.  After driving the van with my husband and three children for a week, I can tell you this is an amazing vehicle.  I was pleasantly surprised at the roominess of the inside of the van.  We normally drive a small SUV and I expected the trunk area of the van to be comparable to our SUV, but it was about twice the size of our SUV trunk.  This was awesome since we packed enough clothes and toiletries for five people for a week.  As you can see in these pictures, there are 4 playful kids in the trunk area with plenty of room for dancing 😀
We traveled from Louisiana, through Mississippi, Alabama, Georgia, Tennessee, and back through Mississippi, then back home in Louisiana in our van.  We take lots of road trips and this was the most pleasant one to-date.  I contribute that 100% to the Chrysler Town and Country.  It is amazing how much it helps to have your children just a few more feet away from you when you're traveling.  My husband and I were actually able to carry on conversations while the children watched movies in the back.  We packed pillows, blankets, and snacks and they thought it was movie night!
When we finally arrived at our destination in the beautiful Great Smoky Mountains; we had plenty of more chances to get to know the Town and Country better.  There is a ton of storage in the roof of the van and a zillion (if that is a real word) cup holders!

Sadly we did have to head home from our great adventure in the Great Smoky Mountains and I was SO happy we had a large van to ride in. We took the long way home which gave us the opportunity to stop by my grandmother's house and spend the night.  Are you ready to see what my ABSOLUTE FAVORITE feature on the Chrysler Town and Country is?  I know you are!  HERE IT IS:


OH YES! There is an actual plug in the van!!!  We were able to charge both of our phones with the usb ports and my laptop at the same time while we were driving!  I know, right….AMAZING!!!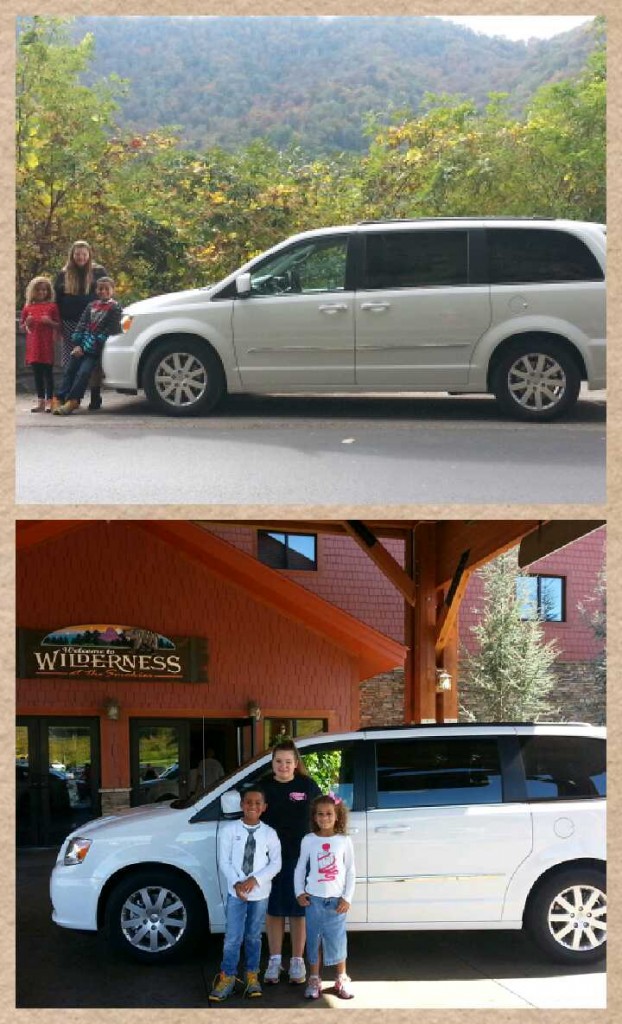 Okay, now it's time for my kids' favorite feature in the van LOL  They LOVED the Stow N Go seating.  I have to say that I loved it too!  I was very impressed with how easy it was to put the seats completely down then set them back up again.  The back seat comes out too! You would have an incredible amount of cargo space once you removed all of the seats.  I told my husband it's like having a truck and a van in one.  Okay, two more things that really stuck out about this van were the extremely smooth ride and the beautifully clear picture on the television screen.    I was also SHOCKED at what great gas mileage we had with this van.  Both of our other cars are much smaller than this van and we would have spent just as much for gas as we did in this van.  On average; we got around 25 miles per gallon on our trip, which was AMAZING to me with the size and power of this van.
Onto the competition!  I told my son I wanted to get some video of him putting down and setting up the seats because it was so easy to do.  I took a video of him doing the seats and, as my children always do, they turned it into a competition.  As usual, Hannah won LOL  Isaiah put the seat down and back up in just over 2 minutes and Hannah was able to do it in less than 2 minutes.  She is very proud of that too!  Enjoy these fun videos taken inside the Chrysler Town and Country.