Miche Bag Review
I was given the opportunity to review this beautiful Miche handbag.  The Miche bag is so unique, not only in its design, but the retro chic style.  Okay, I'm not sure if that is the style they are going for, but that is certainly what it reminds me of 😀  This bag is tiny but mighty!  If you're like me; you are always threatening to downsize your purse in hopes that downsizing will keep you from hoarding so much "stuff" in your purse; only to find out that downsizing just means the same amount of "stuff" crammed in a much smaller space LOL
I decided to downsize in my review of the Miche bag.  When I received it; my first thought was "Uh oh!  I'll never fit all my junk in here, but it sure is cute!" LOL  Well, I was right…on both accounts.  I couldn't fit ALL my junk in there, but I am able to fit everything I need, which is a blessing!
As you can see, this bag is small, but let me tell you; it is MIGHTY!  I am able to fit my phone, debit card, ink pens, many receipts (as you can see below), keys, lip gloss, hand lotion, hand sanitizer and an extra charger for my phone.   That is PLENTY.   This little purse has plenty of room and the hard sides keep everything upright so everything is easy to find.
Now, for the fun part!  The Miche bags come with a shell and a base bag.  You can keep all of your "stuff" in your purse and simply change out the "shell" of your purse.  This way you don't have to get caught without your driver's license or debit card because you just changed purses.  You will, technically, still have the same purse, just a new outer shell 😀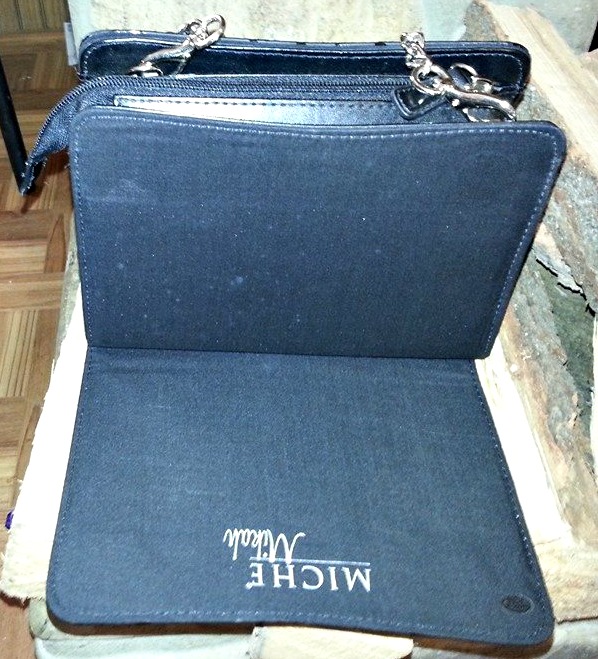 As you can see in the photo above; the outer shell simply comes off.  It is held on with magnets.  Then you can replace it with a different shell.  It is very cool for a couple of reasons.  First of all, it is very easy to remove and put back on.  Secondly, you don't have to move all of your belongings from one bag to another when you are changing the look of your bag.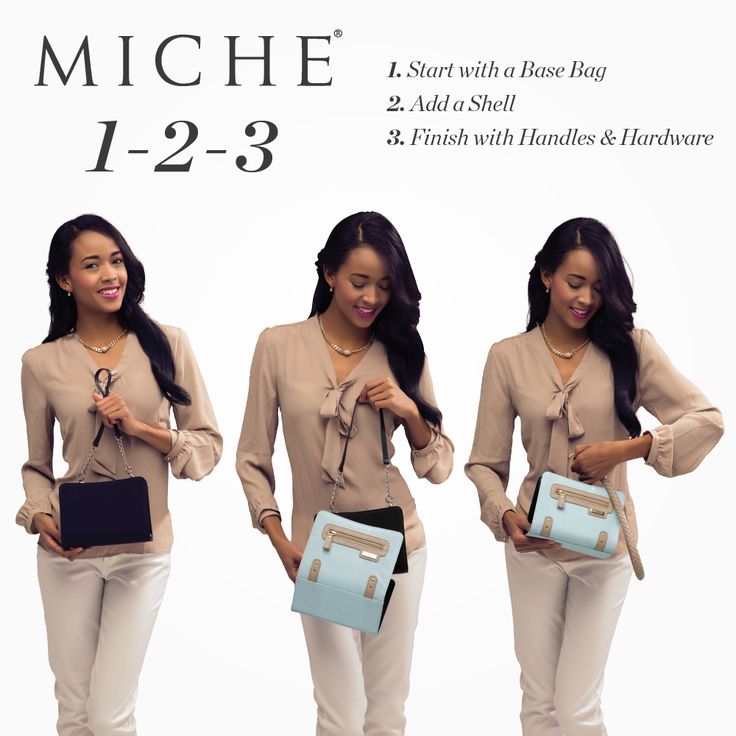 About Miche:
"WEAR IT. CHANGE IT. LOVE IT.
THE ORIGINAL INTERCHANGEABLE MICHE BAG
Miche offers you the ultimate combination of style, convenience and affordability. Owning a Miche bag means never having to switch handbags again—it's a beautiful thing! Our unique magnetic interchangeable exterior Shells allow you to change the look of your bag anytime you want without the bother of moving your things to a new purse—often in 3 seconds or less; it's a real time saver! Affordability gives you the freedom to enjoy the latest trends without the guilt. With four sizes to choose from, there's a gorgeous interchangeable bag for every occasion and need; with dozens of ever-changing styles, handles and other exciting accessories, it's easy to create a look that's uniquely yours. And it's all the same bag!
ADD SOME SPARKLE!
Once you've selected your favorites from the Miche Bag collection, complete your look with the brilliant gems and shining metallics of Miche Jewelry. Many of the pieces are interchangeable too—truly giving you endless possibilities for affordable, dazzling fashion."