Make Your Very Own Arlo Pumpkin #GoodDino
Oh my goodness!  I could not wait to get started once I saw these come in my email.  We could not decide what to carve on our pumpkins this year, but now we know 🙂  New family activity sheets inspired by Disney/Pixar's THE GOOD DINOSAUR including a pumpkin stencil, coloring sheets, mazes, connect-the-dots and more are now available from Disney/Pixar!  We quickly printed out the Arlo pumpkin stencil and headed to the grocery store for pumpkins.  Yes, we all got our own pumkin to carve.  Although my kiddos didn't carve the Arlo pumpkin; they did BEG me to do it for them LOL  I have to say, I was the first one finished.  This was so much easier than I thought it was going to be and made for a super fun family night of carving pumpkins and roasting pumpkin seeds.  If you haven't seen the super cute trailer for The Good Dinosaur, do yourself (and your kids) a favor and watch it below.  Then, for goodness sake, go carve your pumpkin already!  LOL  HAVE FUN!
Print TheGoodDinosaur connect the dots

Print TheGoodDinosaur pumpkin stencil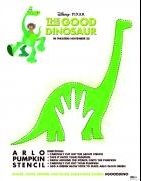 Print TheGoodDinosaur coloring sheets

From Disney/Pixar:
"The Good Dinosaur" asks the question: What if the asteroid that forever changed life on Earth missed the planet completely and giant dinosaurs never became extinct?  Pixar Animation Studios takes you on an epic journey into the world of dinosaurs where an Apatosaurus named Arlo makes an unlikely human friend. While traveling through a harsh and mysterious landscape, Arlo learns the power of confronting his fears and discovers what he is truly capable of.
Like THE GOOD DINOSAUR on Facebook 
Follow THE GOOD DINOSAUR on Twitter
Follow THE GOOD DINOSAUR on Instagram
Follow THE GOOD DINOSAUR on Pinterest
Visit THE GOOD DINOSAUR on Tumblr
Follow Disney/Pixar on YouTube
THE GOOD DINOSAUR opens in theatres everywhere on November 25th!