Instant Pot Pizza Pasta Bake In 20 Minutes
This Instant Pot Pizza Pasta Bake In 20 Minutes is perfect for school nights when you just don't have time for an hour long meal prep.  The meat for this meal can be prepared ahead of time.  As a matter of fact, I recommend you brown your ground beef and keep it in the freezer until you're ready to use it.
My kids absolutely love this Instant Pot Pizza Pasta Bake and I love that it's ready to eat in 20 minutes.  I will let you know up front that I did not include the prep time for browning the ground beef.  I like to brown my ground beef on the weekends and freeze it.  This makes it perfect for adding to any of my favorite Instant Pot recipes.
Between our youngest daughter's basketball practice, our son's baseball practice, our oldest daughter's meetings at University of Louisiana, and my career as a REALTOR®; it definitely takes planning to get a few home-cooked meals in during the week.  With the help of my Instant Pot, I am able to do just that.  As you can tell, this meal isn't entirely cooked in my Instant Pot; as the Instant Pot cannot bake (yet).  It is ready in less than 20 minutes, though, which makes it a huge hit around our house.  I hope your family loves it as much as we do.  Be sure to leave your comments below and let us all know how you prepared it.  Did you change up the toppings?  You can put any toppings on it that you would use on pizza.  Get creative and make it your own!  This pairs great with a salad and garlic bread.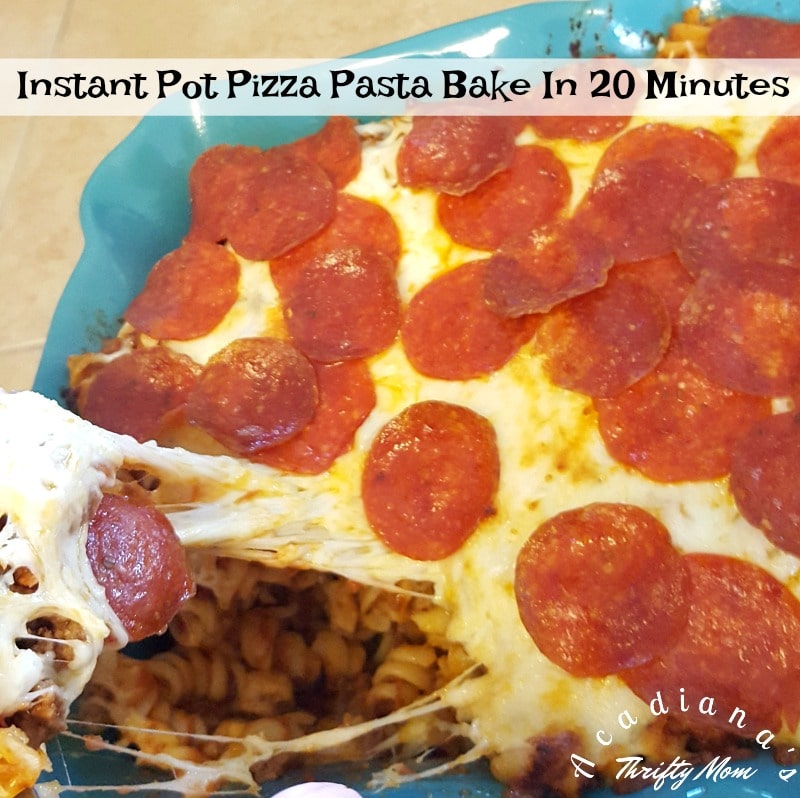 Instant Pot Pizza Pasta Bake In 20 Minutes
This is a quick and easy recipe that is perfect for school nights!
Ingredients
2

lb

Ground beef

browned

1/2

yellow onion

thinly sliced

1/2

green bell pepper

thinly sliced

1

tsp

garlic

minced

48

oz

Your favorite marinara sauce

4

cups

water

16

oz

Rotini pasta (uncooked)

2

cups

mozzarella cheese

5

oz

pepperoni
Instructions
Add the first 7 ingredients to the Instant Pot liner.

Place lid on Instant Pot and lock.

Set Instant Pot to manual for 8 minutes.

Use quick release, then carefully stir the pasta and sauce.

Carefully pour the pasta and sauce into a 3-4 quart baking pan.

Sprinkle with Mozzarella cheese and pepperoni.

Place directly in an oven preheated to 450 degrees for 5 minutes.

Carefully remove pan from oven. Serve while hot and enjoy!
If you liked this recipe, be sure to check out these other favorites:
https://acadianasthriftymom.com/2017/10/02/get-ready-for-game-day-with-these-instant-pot-cherry-dr-pepper-bbq-chicken-sliders/
https://acadianasthriftymom.com/2018/03/24/easy-instant-pot-dirty-rice-ready-in-under-30-minutes/
https://acadianasthriftymom.com/2017/01/08/17-easy-freezer-dump-meals-for-your-instant-pot/