Many of you have asked about the dresses I wore to the red carpet events in Hollywood last week. The dress I chose for the Captain America Winter Solder was Igigi's Talula Plus Size Gown in Platinum. I loved this dress from the first time I saw it on their site. I had originally chosen this dress to wear to the Muppets Most Wanted premier, but when I was asked to also attend the World Premier of Captain America and the red carpet event; I knew this dress would be PERFECT!
This photo was taken at the hotel before we headed out to the red carpet world premier of Captain America Winter Soldier.  I love how the colors of this dress were perfect for this event, since Chris Evans wears black and silver in this movie.  It was like he planned it just for me LOL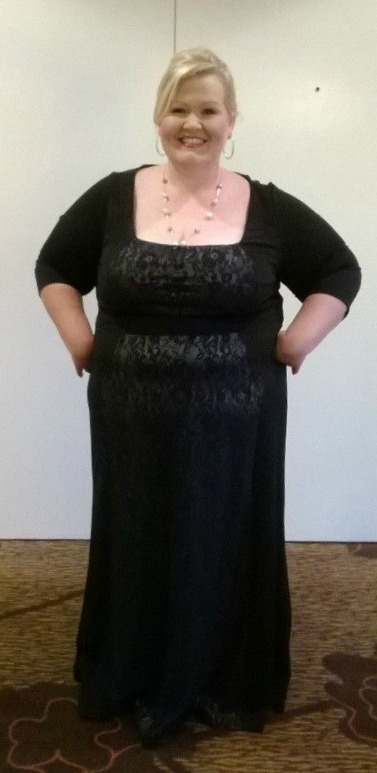 This picture was taken on the steps of the Dolby Theatre where the Oscars take place each year.  This was so exciting and I felt great in this dress.  It is such an elegant dress, yet it was still very comfortable.

Finally, we made it to the "Red Carpet" for Captain America Winter Soldier.  We walked two blocks from our hotel to the red carpet, which may not seem like much, but I can promise you it was LOL  The dress remained very comfortable.  One reason I chose this dress was because I have a large bust area and the only negative reviews of this dress were because the bust area was too big.  Well, that was not a problem for me.  This dress is a size 22/24 and it fit GREAT!  I love the material and the fit.  I LOVE the way Igigi dresses fit many different body types.