Help Mom Feel Special This Mother's Day With Tyson, Thomas, and Walmart #TysonlovesMom
Sponsored post written by me on behalf of Tyson Foods, Inc. All opinions are entirely my own .

Oh my goodness!  How is Mother's Day sneaking up on us like this?  I cannot believe it is just around the corner.  I am always looking for ways to celebrate my mother and mother-in-law on Mother's Day.  This year, I will be treating them to brunch at my house.  What better way to spend time with both my mother, mother-in-law and all three of my children?  Of course, we will be celebrating early, so I can take a break on Mother's Day as well.  I am a big fan of spending the day before Mother's Day with my mother and reserving Mother's Day for my children and husband.  Hey, I'm mom, I get to do that, right?

At Walmart, you can find everything you need to make Mother's Day brunch special for your mom.  One of my favorite go-to recipes for Mother's Day is a breakfast pizza that has become a hit with my mother.  This year, I decided to share it with everyone.  It is so easy peasy and I just know you will be impressed at how delicious it is.  Jimmy Dean® Regular Premium Pork Sausage and Thomas' The Original Nooks & Crannies English Muffins are a must for this breakfast pizza.  You're also going to need 6 eggs, 8 oz shredded cheddar or cheddar jack cheese, and tomatoes.  Your mom is going to thank you (and me).
One thing I love about this recipe is that it easy enough that my kids can even make it for me for breakfast in bed on Mother's Day or my birthday.  You can really get creative with the toppings and it is a LOT of fun.  I can remember making breakfast in bed for my mom on Mother's Day.  I'm not so sure mine was ever as sophisticated as making breakfast pizza, but it was always made with love and tons of creativity.  Creativity tastes good too, right?!?  I'm pretty sure that the most creative I got was the time I tried to make scrambled eggs and they turned out more like a yellow, sticky pudding LOL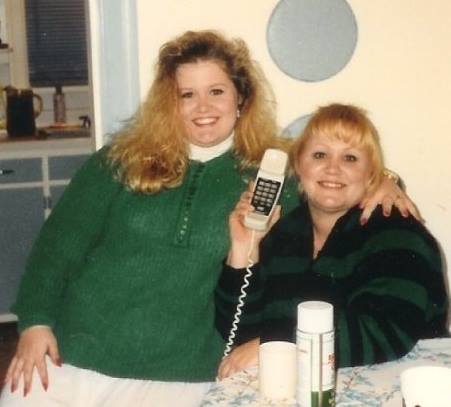 Some of my favorite memories with my mom were in the kitchen creating new dishes and meals with her.  Now, my children get to do the same for me. Right now  Tyson is running a Sweepstakes where you can participate and be entered for a  chance to win one out of five $200 Walmart gift cards!  To enter, all you have to do is post a picture of any of the following on Instagram or Twitter and hashtag it #sweepstakes #TysonlovesMom and tag @TysonFoods:
Your mom
Your brunch with mom
Breakfast in bed for mom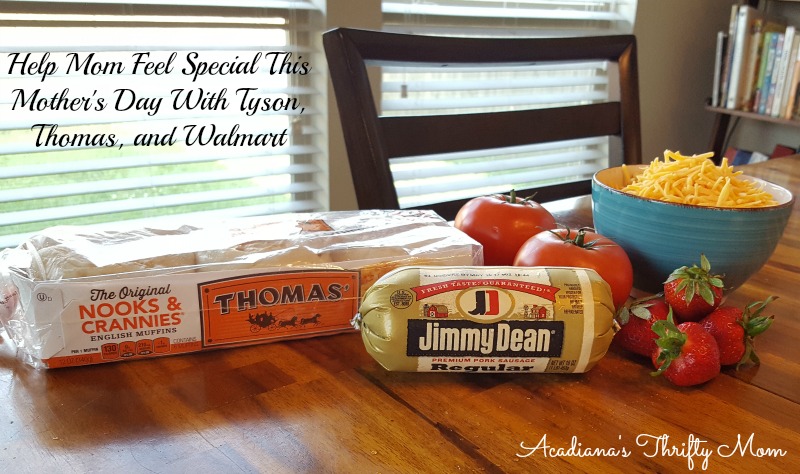 The next time you're in Walmart, be sure to pick up some Jimmy Dean sausage and Thomas English muffins.  Grab some cheese, and tomatoes to make the meal complete.  You can add hash browns, oatmeal, or any fresh fruit you love to make this meal complete.  Don't forget to get mom some beautiful flowers to brighten her day as well.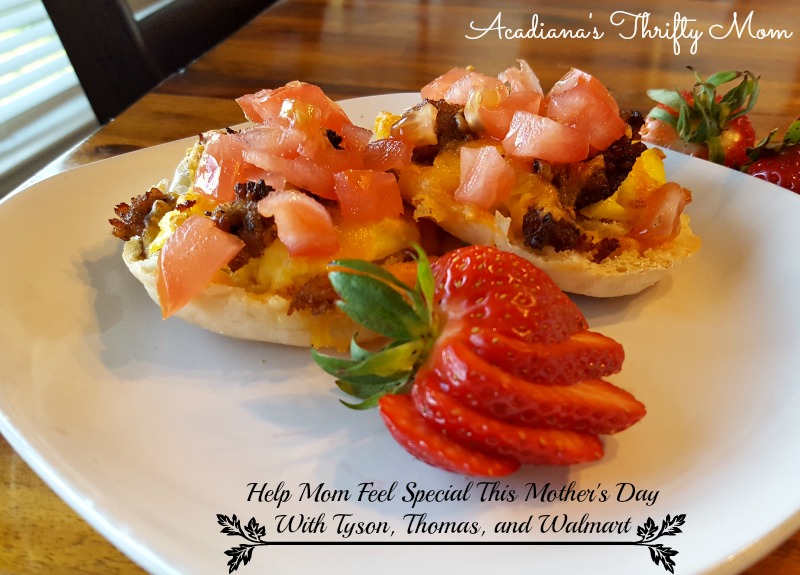 Now for your directions on creating these tasty and easy breakfast pizzas!
Gather your ingredients:
5 Thomas' The Original Nooks & Crannies English Muffins
1 lb Jimmy Dean Regular Premium Pork Sausage (crumbled and cooked)
8 oz shredded cheddar cheese
6 eggs (scrambled)
1/2 tomato (diced)
Get to baking:
Slice and toast your English muffins and spread butter on top of each half.
Sprinkle scrambled eggs evenly among 10 muffin halves.
Sprinkle cooked sausage on top of eggs.
Top each muffin with shredded cheese and bake in oven preheated to 400 degrees for 10 minutes.
Carefully remove from oven and top with diced tomatoes.
Serve warm.
Enjoy!