Get Poise Impressa® and Laugh with Confidence #TryImpressa
This post is sponsored by Impressa. All opinions are 100% my own.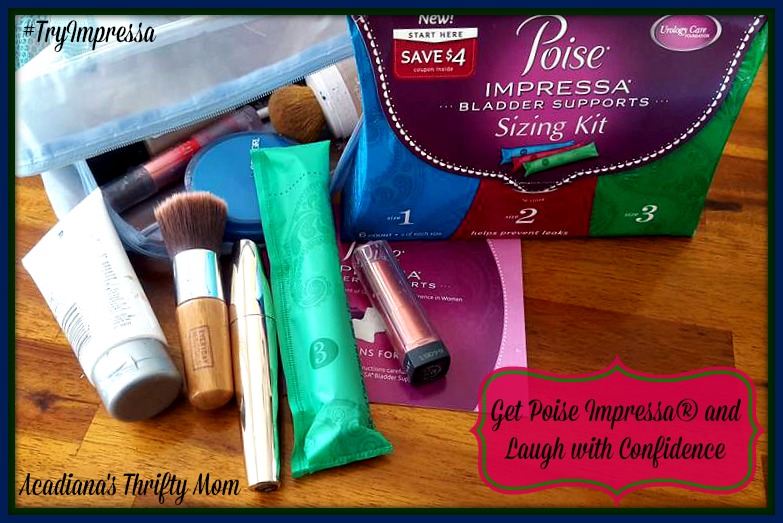 There are not many times, as a woman, that you can really get *excited* about a personal hygiene product.  Let's face it, stress urinary incontinence (SUI), aka bladder leakage; is no fun to talk about.  After having three children it is a part of my life, especially during cold and flu season.  Oh yes, if you've ever experienced SUI, then you know exactly what I mean.  Between the coughing and sneezing, it seems like you can never leave the house with confidence.  All of my friends, who are approaching menopause, and I understand exactly what is at stake if we dare to laugh LOL  Well, guess what, we laugh anyway!  We have fun and we understand, like nobody else can understand.  The most amazing feature of Impressa Bladder Supports is that they stop bladder leakage before it starts!  No leaks means no pads and no odor!  Go check Impressa Bladder Supports out at Walmart.com and get your $4 cash voucher!
Designed to manage Stress Urinary Incontinence, Poise* Impressa* Bladder Supports do not absorb leaks — they help prevent them. Stopping leaks starts with the Impressa Sizing Kit. Impressa comes in three different sizes, and the Sizing Kit helps you find your most effective and comfortable internal fit. Each kit includes six bladder supports (two of each size), along with a $4 coupon toward a 10-count Single-Size Pack of Impressa. ~ Poise.com
How well do Poise Impressa bladder supports work? Will I have leaks?
Impressa Bladder Supports are the first over-the-counter internal product in the U.S. cleared by the FDA for the temporary management of Stress Urinary Incontinence (SUI). Designed to reduce or stop urine leakage in women with SUI, Impressa comes in three different sizes to adapt to your unique internal shape. Once you find the right size for you with the Impressa Sizing Kit, your leaks may decrease or even stop. Of course, results will be different for every woman, as Impressa can reduce leakage in some, stop leakage in others and may not work for some. ~Poise.com
HOW DO I USE POISE* IMPRESSA* BLADDER SUPPORTS?
Impressa Bladder Supports are easy to use. Start with the Sizing Kit and follow the directions to find your size. Once you find the right size for you, you can use Impressa to help stop your leaks for up to eight hours every day. Impressa comes in an applicator like a tampon and is inserted into the vagina the same way to gently lift and give support to the urethra. To insert Impressa, follow these easy instructions:
Find a comfortable position, either sitting on the toilet with knees apart or standing with one foot elevated.
Apply a water-based lubricant, if needed, to the rounded tip of the applicator for more comfortable insertion.
Hold the applicator with your thumb and ring finger on the lowest line of the grip.
Place the applicator tip into your vagina and gently slide the applicator into your vagina until your thumb and middle finger touch your body.
Push the plunger with your pointer finger all the way into the applicator until it stops, as you would with a tampon.
Remove and discard the applicator in the trash; do not flush the applicator.
The Bladder Support should feel comfortable and the removal string should be hanging outside your body.
If you feel discomfort, use your pointer finger to make sure that the support is about 3/4-inch inside your vagina (up to the first joint of your pointer finger). If it is not, remove the support and insert a new one. ~Poise.com