Photo credit: ABC
On the Set at General Hospital
Okay y'all; don't be mad *hehe*…..I had the chance to tour the set of  General Hospital while I was in Los Angeles back in March.  I KNOW I have quite a few readers who are HUGE General Hospital fans!  This was truly a surreal experience.  You don't have to be a huge soap opera fan to know that General Hospital is, by far, the most popular soap around!  How amazing was it to walk around the set and actually see them all in action?  ummm….well…..AWE-FAN-SOME-TASTIC!!!!!!!
First we went into a room where they had tons of memorabilia from the years past on General Hospital.  That was amazing!  Then we were able to go upstairs and tour the actual set where everything goes down!  Here I am sitting at the ultrasound table where so many great General Hospital moms have found out about their pregnancies.  I was just happy that, for once, it wasn't me LOL
 Of course I had to get a picture in front of the iconic General Hospital sign!  Oh yes, a few of my friends went a little crazy over this one 😀  It really impressed me how friendly everyone on the set was.  I'm not sure what I expected, but I certainly didn't expect the actors and actresses to take time out to get to know us, but they did!  It was truly amazing and they made us all feel like family.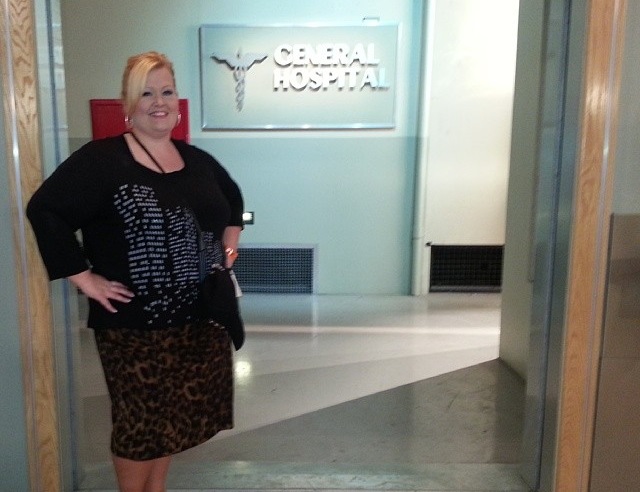 NOW, here is the photo you have all been waiting for 😀  This is a group picture of all the wonderful bloggers with whom I shared this amazing trip and William DeVry on the floor in front!
Don't forget that General Hospital has the 2014 Nurses' Ball coming up!
From ABC:
Port Charles will once again hold the iconic Nurses Ball gala, a fundraiser for HIV and AIDS awareness and research. As the Nurses Ball 2014 begins, several popular Port Charles residents will be noticeably absent from the Red Carpet and stuck at home watching the festivities on TV. Old and new loves will percolate while others find themselves in awkward situations. Amidst all the romantic drama, the never-dull Nurses Ball audience will be entertained with fun performances and sexy surprises. The Nurses Ball episodes air May 8 through May 13. "General Hospital" airs MONDAY – FRIDAY (2:00- 3:00 p.m., ET) on The ABC Television Network.
Photo Credit: ABC