Fresh Off The Boat Made Me Fall Off The Couch
*I received an all expenses paid trip to Los Angeles for the coverage of several press events for Disney and ABC. All opinions are 100% my own and we only recommend shows that are a great fit for our readers.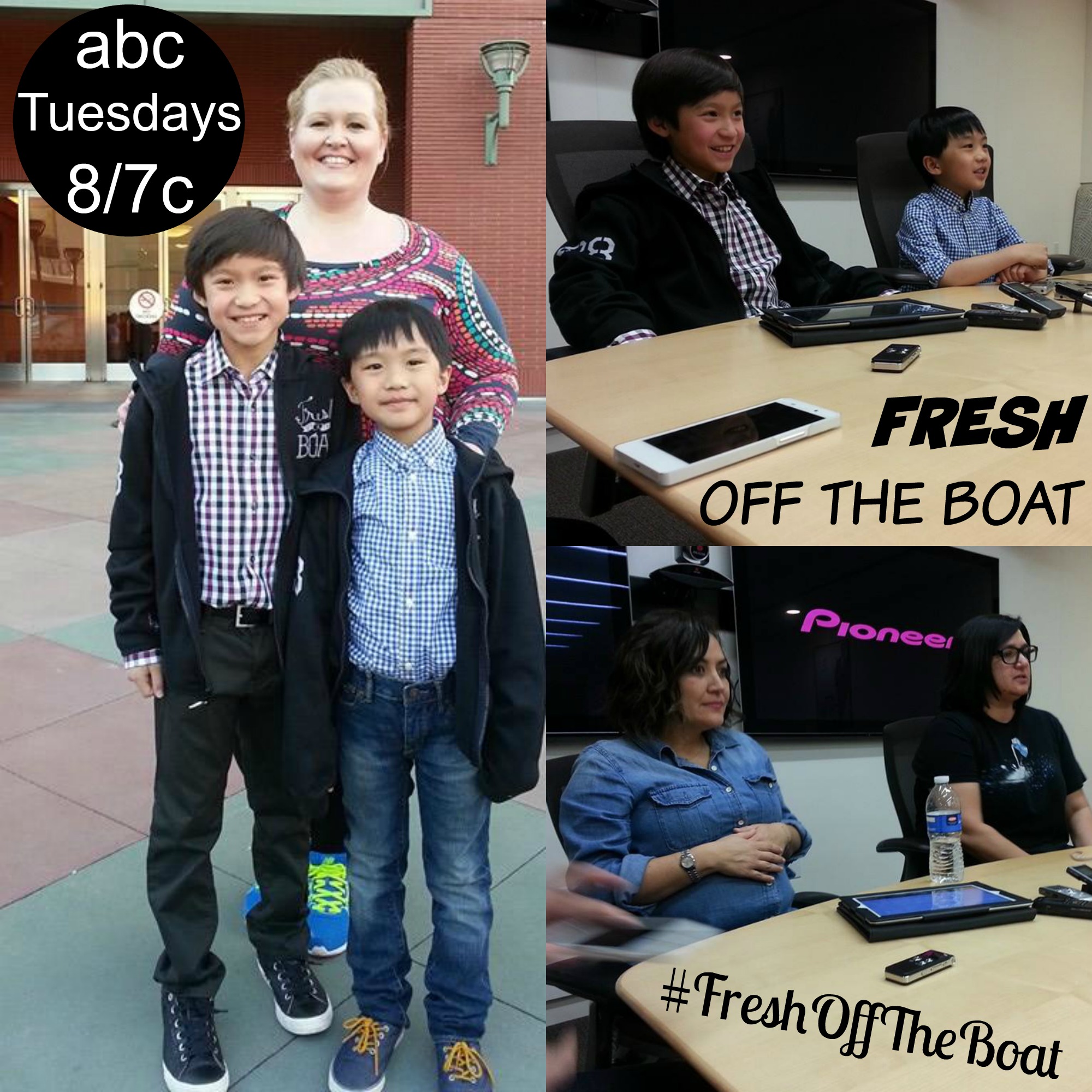 You may have heard of this new show on ABC called Fresh Off The Boat.  Have you?  If you have, I hope you've had a chance to check it out, but just in case you haven't, please allow me to tell you how incredibly funny this show is!  Fresh Off The Boat is set wayyyyyy back in 1995, two years after I graduated from high school.  Oh yes, that was 20 years ago, in case you were wondering.  If you weren't wondering then either you're too young to care, too old to care, or you're like me and just haven't thought about it.

Fresh Off The Boat had us rolling right from the opening.  From the old-school 90's R&B to the hilarious one-liners, we were hooked.  The most appealing aspect of Fresh Off The Boat is it's appeal.  Does that even make sense?  Of course it does!  Let me clarify; Fresh Off The Boat appeals to all 5 members of our household, from my husband who just turned 42 all the way down to our 8 year old daughter.  I thought my husband was going to fall off the couch laughing.  I think he got the biggest kick out of it as he was wiping tears from his eyes.
Photo Credit Silvia Mtz from mamalatinatips.com
While I was in Los Angeles last week, I had the amazing opportunity of meeting Forrest Wheeler and Ian Chen who play Emery and Evan Huang in Fresh Off The Boat.  These two little boys were so stinkin' cute!  They ate dinner with us and answered questions from all of the Mommy Bloggers.  Here's a little piece of the interview with the boys:
Question: What's the most exciting part about being on TV?
Forrest Wheeler:  I think it's just seeing yourself and seeing yourself on TV and really can't believe that it's you. Because when I watch it, is that really me or is that just some other person that they edited?
Question:  Do you think your characters are a lot like you in real life?
Forrest Wheeler:  Yes, the only difference between Emery and me is that, uh, I don't have girlfriends yet.  Maybe in a couple of years.
Question:  What do your friends think about you being on the show?
Ian Chen:  They think it's really cool, too. One of my friends actually gave me an Oreo.  Like, two Oreos.  And he goes; I love your shows.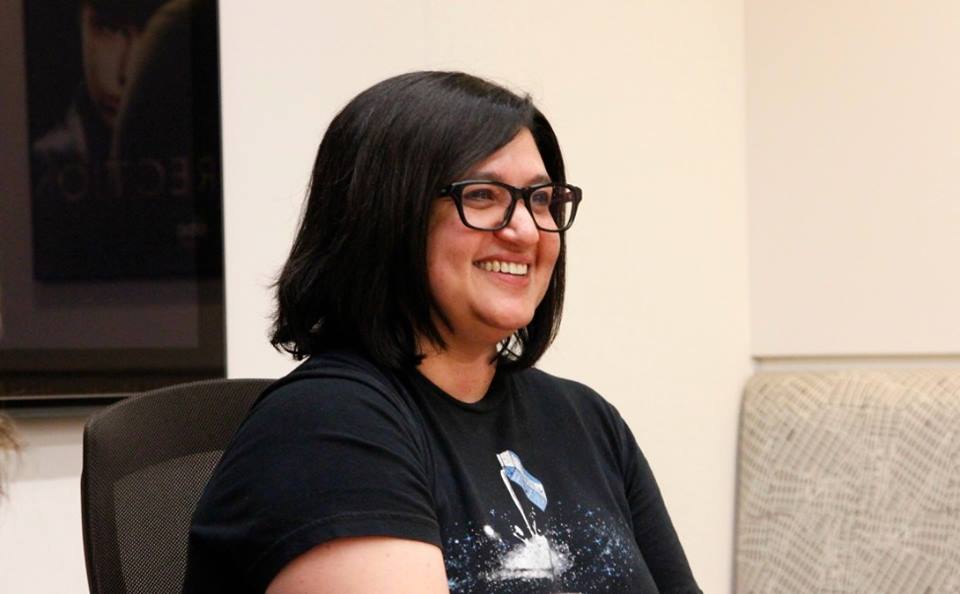 Photo Credit Silvia Mtz from mamalatinatips.com
We were also able to interview the writer and executive producer of Fresh Off The Boat; Nahnatchka Kahn.  She was so sweet and did a great job of making us feel like this series was written for each of us in mind.  I love what she had to say about it being a show for everyone.  Here's a little piece of our interview with her:
Question:  Who do you go back to for inspiration about growing up with Immigrant Parents like my Parents had to do all the translating for me.
Nahnatchka Kahn:  Same, same, my Parents were both born in Iran and my Brother and I were born here and it was that exact experience where you know, when you're from an Immigrant Family like that you have to explain things.  You have to sort of be that bridge between your Parents. You know, the sort of Old School and the New School, and sort of explain things to them that I feel like other people's Parents just understand, you know. So yeah, that was a bit, like I remember KFC was big.  My Mom didn't understand food coming, that you would pay for, that came in a bucket. Cause she's like a cleaning item, why? Like I'm paying for it. I want it on a platter, sort of, you know, something.  A plate at least.  Which is what's so fun about doing a Show like this.  It's like when you explain things like well Mom, it's just a bucket. And I don't know why it's a bucket but you know, you sound a little bit crazy. And the things that we sort of take for granted like in the Nascar run down where when you sort of really break it down, you sound a little crazy when you talk about it. And that's sort of this perspective, you know, the immigrant story allows us to kind of shine the spotlight on some of the things that we take for granted and make fun of them.
Question:  I love the '90s references. How do you pick up which stuff you're gonna go with?
Nahnatchka Kahn:  I mean that was conscious when we were developing it.  The first question that always sort of comes up is why we set it 20 years ago? Why not make it present day?  You could still tell the same story and for me, it was really important to keep it 20 years ago because of the references, but also because it was the last time before the Internet sort of exploded.  You know, when you couldn't just get online and find other people who thought like you or liked Music like you and you sort of had to make it work with where you were. You had to befriend kids at school or the neighborhood and if not, then you were alone. And that sort of reinforced their feeling of isolation and feeling like we need to make this work, and we need to follow our dream. There's no room for failure and so with that like as the sort of general idea of keeping it 20 years ago, we didn't want that to be like the joke. It wasn't gonna be like '90s references every time but it's real, you know, like all the stuff of the dialogue, internet, and the musical references; that's stuff that you know.

FRESH OFF THE BOAT – "The Shunning" – When the cul-de-sac plans a block party to celebrate NASCAR, Louis urges the family to use the event to make new friends (and promote Cattleman's Ranch Steakhouse). But Jessica has problems fitting in, especially after she befriends a beautiful trophy wife the roller blade moms don't like.  Meanwhile, Eddie schemes to win the respect of the neighborhood kids, in the time-period premiere of ABC's new comedy series "Fresh Off the Boat," TUESDAY, FEBRUARY 10 (8:00-8:30 p.m., ET) on the ABC Television Network. (ABC/Nicole Wilder)  Shown: HUDSON YANG, LEAIRE GEORGE, FORREST WHEELER, ELOISE ESTEVEZ

FRESH OFF THE BOAT – "Success Perm" – Family rivalry spirals out of control when Jessica's sister, Connie, and her far more affluent husband come to visit. The Huangs try to convince everyone they're doing great financially, when nothing could be further from the truth. Meanwhile, Eddie is excited to be reunited with his cousin Justin, who introduced him to hip hop, until he learns the kid has moved on to grunge, on "Fresh Off the Boat," TUESDAY, FEBRUARY 10 (8:30-9:00 p.m., ET) on the ABC Television Network. (ABC/Gilles Mingasson)
Shown: CONSTANCE WU, RANDALL PARK
After Eddie receives straight A's in the new school, Jessica makes an appointment with the Principal. Jessica wants to know where the closest CLC is. Check out Eddie's definition of a CLC in this preview of Episode 102 "Home Sweet Home School" of season one of Fresh Off the Boat. Don't miss the 2 Episode Premiere Wednesday February 4th.  Watch the clip below, you'll be happy you did!

Tune in on February 10th, 8 pm/ 7 Central for the newest episode of Fresh Off The Boat! Also be sure to follow them on Facebook and Twitter too!