FREE MUPPETS MOST WANTED – Activity Sheets!
FREE MUPPETS MOST WANTED – Activity Sheets!  Are you as excited about the new Muppets Most Wanted as I am? Well, I might be a little more excited because I get to go to Los Angeles, along with 25 other bloggers. You can read more about our AMAZING adventure HERE. My kids have had always love learning to draw anything, so this was perfect! As you can see, they had a BLAST drawing the muppets 😀
To print these activity sheets; simply click on the sheet you want to print and the printable version will open in a new window.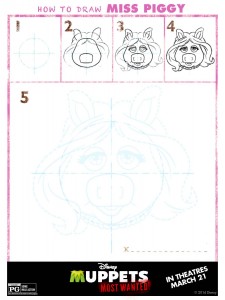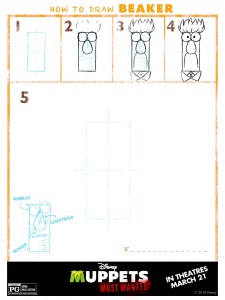 About Muppets Most Wanted:
Two Frogs! One Pig! Intrigue! Music! Mayhem! Muppets! There's plenty of fun for the whole family as Kermit the Frog, Miss Piggy, Animal and the entire Muppets gang head out on a world tour. But mayhem follows the Muppets, as they find themselves unwittingly entangled in an international crime caper. Now Kermit is behind bars at the mercy of prison warden Nadya (Tina Fey), and the World's Number One Criminal, Constantine—a dead ringer for Kermit—has taken his place. As Constantine and his dastardly sidekick Dominic (Ricky Gervais) plot the robbery of the century, they are pursued by Sam Eagle and Interpol agent Jean Pierre Napoleon (Ty Burrell). Will Constantine get away with his nefarious scheme? Will Kermit escape in time to save the day? Packed with dozens of guest cameos, new songs and the most extended, most exclusive scenes not in theaters, Disney's Muppets Most Wanted is the most hilarious, most wanted Muppet movie ever!
Did you enjoy this post?  Check out these other great posts from Acadiana's Thrifty Mom:
https://acadianasthriftymom.com/2014/02/25/im-getting-my-muppet-nails-on-for-muppets-most-wanted/
https://acadianasthriftymom.com/2014/03/08/opi-nail-polish-nail-tutorials/
https://acadianasthriftymom.com/2014/03/05/what-are-we-going-to-do-in-la/