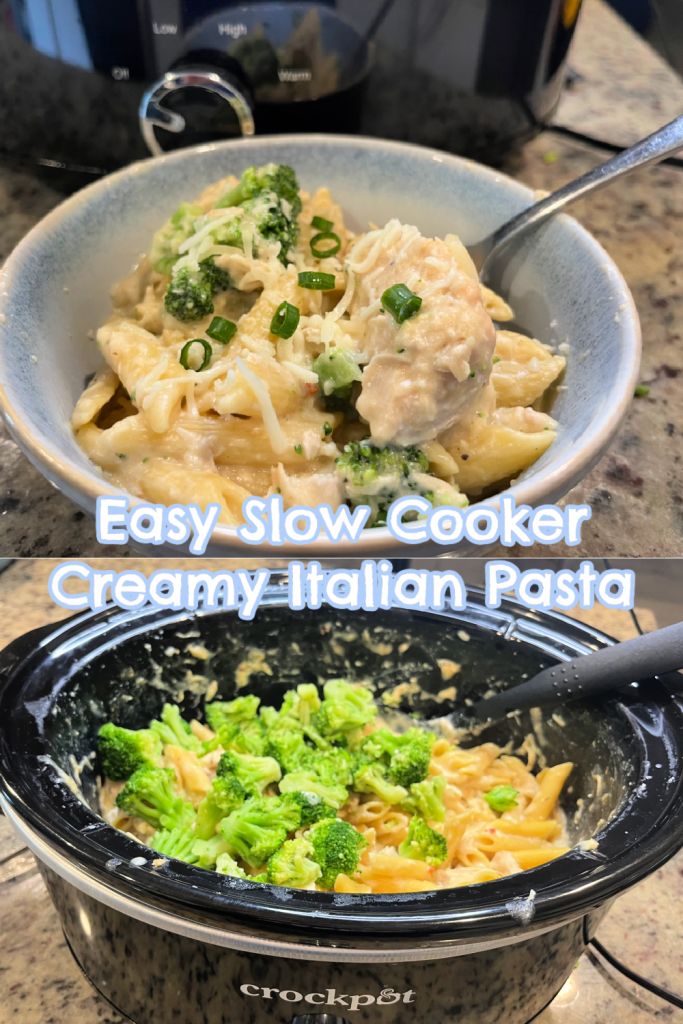 This Easy Slow Cooker Creamy Italian Pasta is another great money and time saving recipe. As the mother of three; doing this mom thing alone is tough. There is always a shortage of money and time. I need to cook supper for the kids to save money, but I also need recipes that are easy and quick to prepare.
Using my slow cooker is just one of the ways I save time, daily between work, kids and sports. If I don't have supper already planned out before I start my day; fast food will be on the menu. Getting food to-go for teenagers is never cheap. This is why I try, really hard, to plan our meals in advance.
My kids beg for this Easy Slow Cooker Creamy Italian Pasta. They don't call it that. They say "You know mom. That stuff with chicken and noodles that we love". I know what they're talking about. There are a few chicken and pasta meals that they love, but this one is their favorite.
I use the Italian blend cheese when I make this dish, but you can use just parmesan cheese if you prefer. I like the Italian blend because it is a little more mild than just parmesan. I also like to add veggies to it at the end. My favorite is broccoli florets. I've also added fresh spinach at the end and it tastes amazing!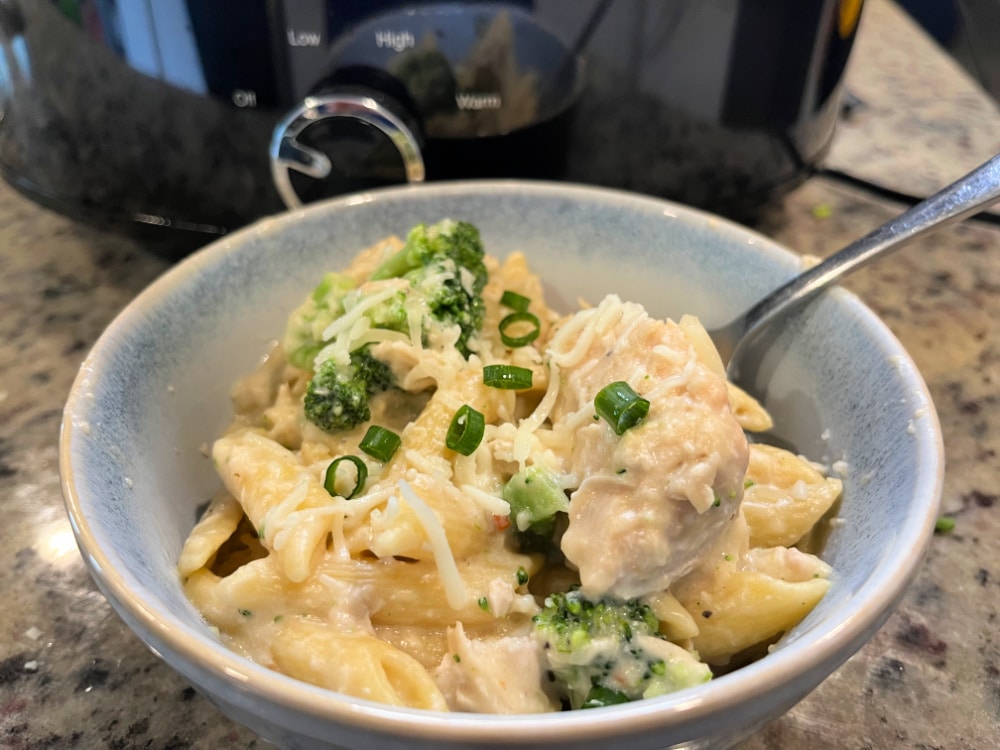 This is another dish that you can start cooking in the morning before work and finish it up when you get home. You can also cook the pasta on the stove, then add it to the slow cooker if you're pressed for time. Mix it up and make it your own. Do what works for you and your family.
Easy Slow Cooker Creamy Italian Pasta
Ingredients
1 1/2

lb

boneless skinless chicken breast

8

oz

Cream cheese

15-16

oz

Creamy Italian dressing

1

cup

Parmesan or Italian blend cheese

16

oz

Penne pasta

32

oz

Chicken broth

1

tsp

Salt

1

tsp

Black pepper

10-12

oz

Frozen vegetables

Broccoli florets
Instructions
Place Chicken breast in bottom of slow cooker.

Place cream cheese on top of chicken breast and pour dressing on top of chicken and cream cheese.

Turn slow cooker on high for 2 hours.

Open lid to slow cooker and shred chicken with two forks.

Add chicken broth, salt, pepper, and pasta to the slow cooker and cook for an additional hour on high.

Open the lid to the slow cooker and add parmesan cheese..

Prepare vegetables according to packaging and add to pasta. Mix everything in the slow cooker until well combined

Serve with your favorite bread and salad and enjoy!