Easy Peasy And Healthy Fruit Cones
Acadiana's Thrifty Mom is required to disclose a relationship between our site and Save-A-Lot. This could include Save-A-Lot providing us with content, product, access or other forms of payment
It is not always easy to find great healthy after-school snacks for our kids, so we have to get creative. Sometimes that creativity is easy and sometimes it is hard to achieve. I am happy to tell you that this time it is SO, SO EASY! I am all about easy peasy and healthy for the kiddos! My kids squeal a bit every time I make these fruit cones. Sometimes, they even give me a hug and kiss *gasp* for being creative. This is definitely one of those times. They even request these fruit cones when they have company coming over. That's when you know they really love it!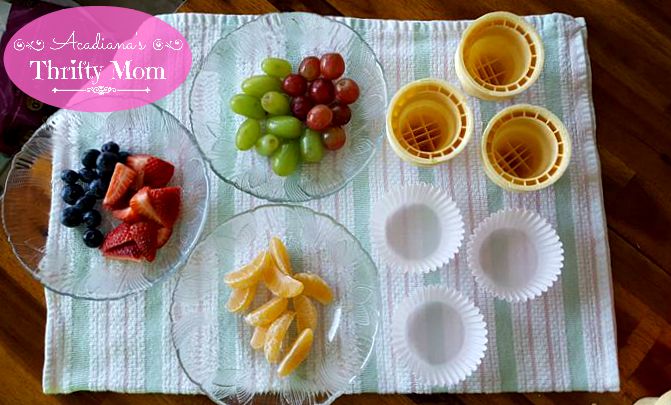 Easy peasy:
It is so easy to make these. You can really use any fruit you want. I try and choose the most colorful and sweetest fruit. Kiwi and pineapple are both great additions to this fun snack. Just cut them up into bite size pieces and toss them in an ice cream cone and VOILA! You have a beautifully nutritious after school snack for your little ones 😀 You can also use waffle cones or sugar cones. You can even get fancy and tie a ribbon around the cone!
As usual, our local Save A Lot, in Opelousas, was very clean and welcoming. I know you have to know that this is a rare occurrence these days for most stores. I have my favorite stores where I love to shop and cleanliness and customer service are at the top of my list of reasons why I choose these stores. It was super easy for me to find the supplies I need at my store! I went right over, picked them up, and tossed them in my basket. Easy peasy, and now it was time to get the rest of my grocery shopping done.
*Prices may vary by location
Be sure to try all of the Save A Lot brands:
Tipton Grove™ variety fruit cups
Coburn Farms® String Cheese & Yogurts
Bramley's® Jelly & Spreads
Panner® Peanut Butter and Hazel Nutter
Higgs® Crackers, Chips, and snacks
Kiggins™ Cereal
Morning Delight® Toaster Pastries
Be sure to check out Save A Lot on Twitter, Facebook & Pinterest!