Easy Homemade Bread Bowls
This is the easiest and most delicious bread bowl recipe around 🙂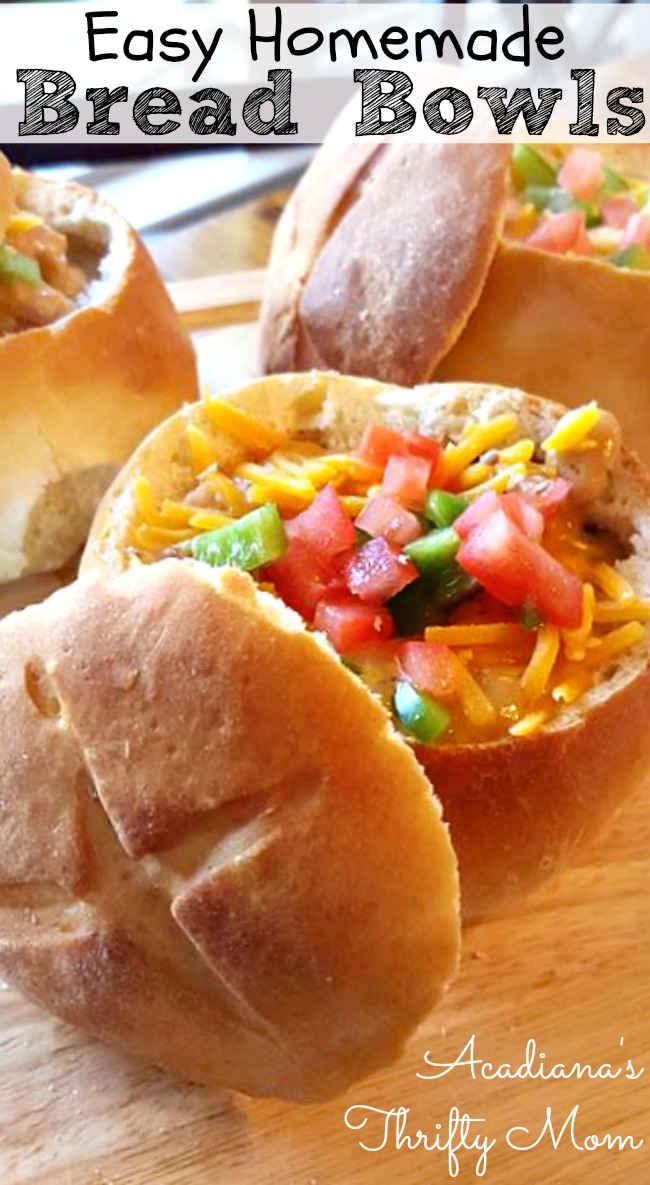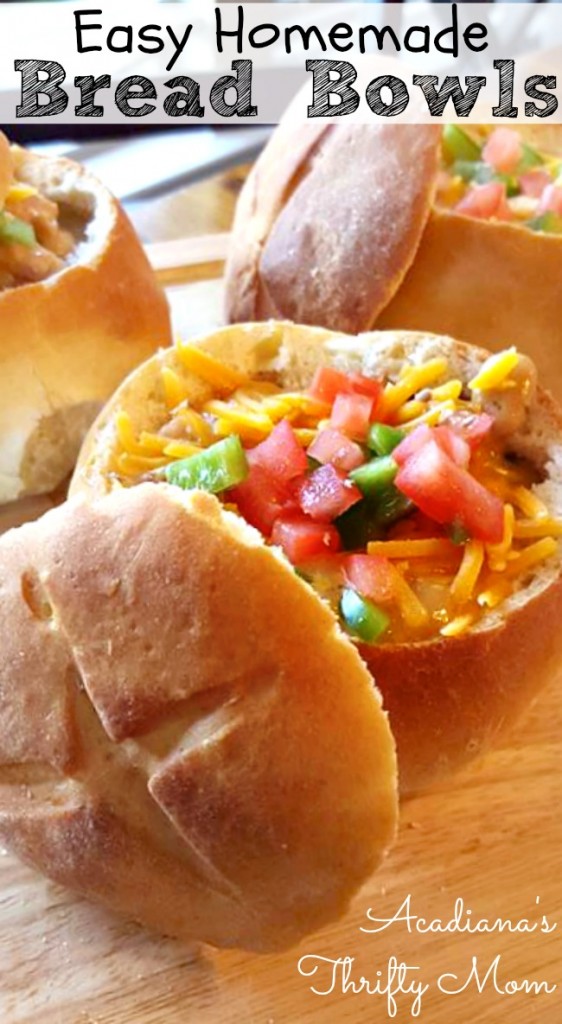 Do you love making homemade bread?  If you do, then these easy homemade bread bowls are for you!  If you've never tried making homemade bread, this is one of the easiest recipes to start with.  So, go ahead and give it a try.  What do  you have to lose? You may just love it!  I have been making homemade bread for many years.  Although you can use any of your favorite bread recipes to make bread bowls, I find that this recipe makes a much more sturdy bowl than many others do.  Trust me, making bread is not nearly as scary as so many people make it out to be.  It's a little time consuming, but not really difficult.  These bread bowls are going to be the staple for our Super Bowl party next week.  They can be made ahead of time and kept in the freezer too!  These bread bowls are great for thick soups and dips.  We love them with chili and potato soup.  I hope y'all enjoy this recipe as much as we do 😀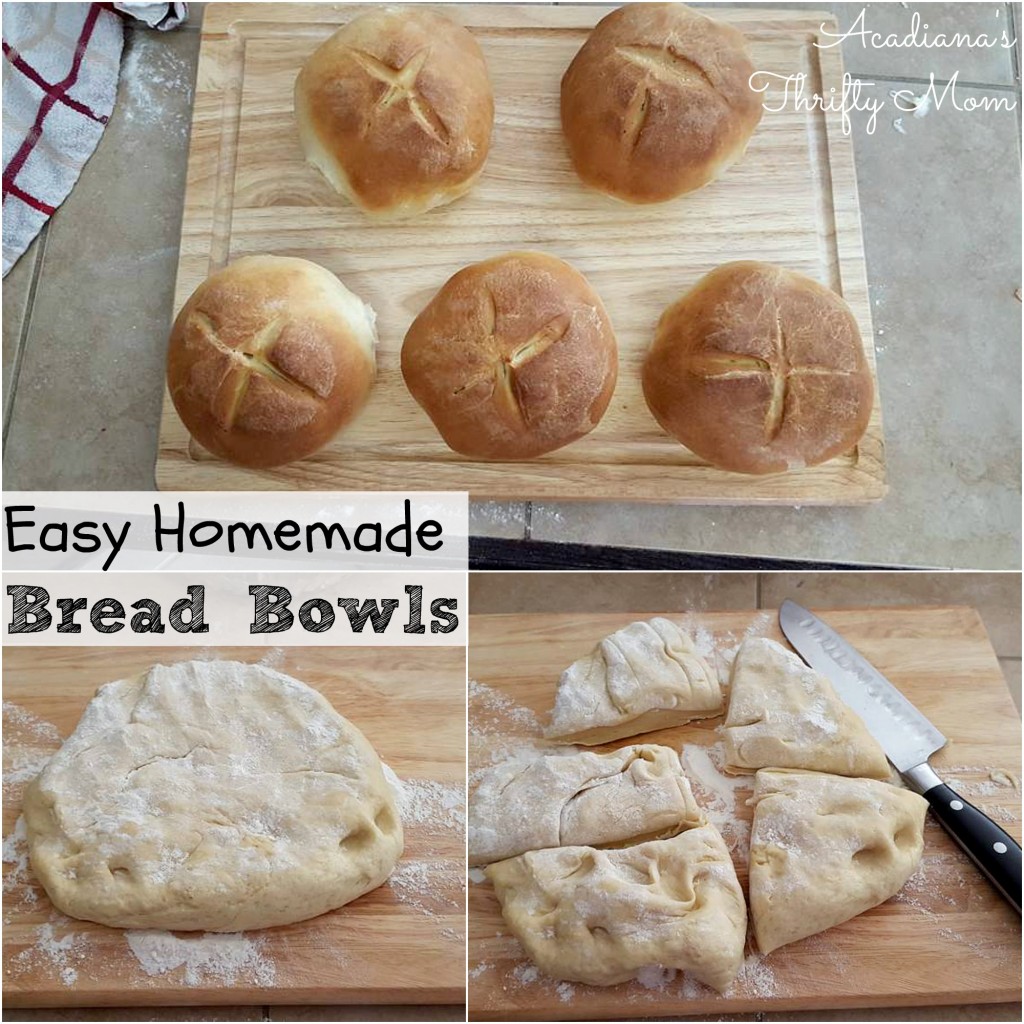 Gather your ingredients:
2 Tablespoons of sugar
2 tsp active dry yeast
1 tsp salt
1/2 cup warm water (not hot)
1/2 cup milk
1/4 cup vegetable oil
2 eggs (lightly beaten)
4 cups bread flour
Get to baking:
Add water, sugar, & yeast to mixer with bread hook and let sit for 5 minutes
Add milk, vegetable oil, and eggs to the water mixture and mix slowly with bread hook.
Slowly add flour and continue to mix on low setting.
Add salt and mix on medium with bread hook until dough forms a smooth ball.
Coat dough with vegetable oil and cover with damp cloth and allow to rise for 1 hour.
After dough has risen for and hour, remove from the bowl and divide into 5 even sections.  This doesn't have to be perfect.
Roll each section into a tight ball and place on a greased cookie sheet.  Allow plenty of room between each "bowl" for them to rise without touching.
Place damp towel over "bowls" and place in a dry spot for them to rise for 30 minutes.
After the "bowls" have risen for 30 minutes, remove damp towel and carefully place in oven that has been preheated to 350 degrees.
After 30 minutes, the "bowls" should be golden brown.  Carefully remove them from the oven and allow them to cool.
After the "bowls" are cooled, use a bread knife to cut a hole that is about 4 inches in diameter in the center of the bowls.  Use your fingers to remove the bread from the bowls.  This will help ensure that you do not cut the sides of the bowls.  Leave about 1 inch of bread around the inside edge of the bowls to keep from leaking.
Enjoy!