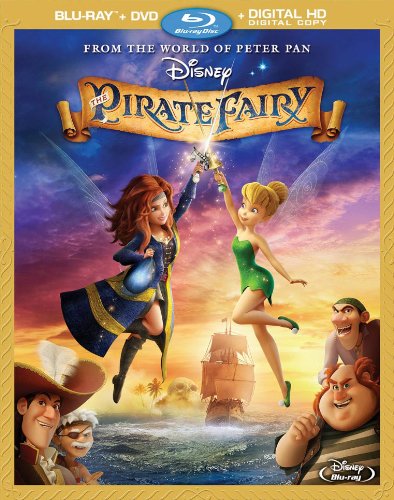 Disney's Pirate Fairy Review
Did you know that Disney's Pirate Fairy came out on DVD last week? This is a fairy movie even your boys will love!  Disney's "Tinkerbell And The Pirate Fairy" is the most fun fairy movie Disney has put out yet!  Trust me, I know about Disney Fairies.  I have two daughters who absolutely LOVE the Disney Fairy movies and now they have one they can share with their brother! I was given the awesome opportunity to, not only view Pirate Fairy at Disney Toon Studios before it came out on DVD, but also was given a copy to view again at home, with my children.
I'll go ahead and tell you; this was my favorite Fairy movie yet.  Why, you ask?  Well, my answer is simple:  I have 2 daughters and 1 son and all 3 enjoyed this movie!  Pirate Fairy has something for everyone!  There are pirates for the boys and fairies for the girls.  Yes, I'm aware that girls like pirates too and boys like fairies too, but for those who don't; this movie will please everyone!  Last month, I was also able to sit down with The Pirate Fairy's director, Peggy Holmes; and producer, Jenni Magee-Cook; you can read more about that interview HERE!
From Disney:
From the world of "Peter Pan" comes "The Pirate Fairy," a swashbuckling new adventure about Zarina (voice of Christina Hendricks), a smart and ambitious dust-keeper fairy who's captivated by Blue Pixie Dust and its endless possibilities. When Zarina's wild ideas get her into trouble, she flees Pixie Hollow and joins forces with the scheming pirates of Skull Rock, who make her captain of their ship. Tinker Bell (voice of Mae Whitman) and her friends must embark on an epic adventure to find Zarina, and together they go sword-to-sword with the band of pirates led by a cabin boy named James (voice of Tom Hiddleston), who'll soon be known as Captain Hook himself. With laughter, heart, magic and thrills, "The Pirate Fairy" sets sail April 1, 2014.
Look for many of your teen celebrity favorites, in voice as well as face as Lucy Hale is the voice of Periwinkle, Tom Hiddleston (Thor and Thor: Dark World) as the voice talent behind Captain Hook, Jesse McCartney as Terence, Raven-Simone as the voice of Iridessa, Debbie Ryan (Jessie) as the voice of Spike, and Mae Whitman (Parenthood) returns as Tinker Bell.
Take a look at this fun trailer of Pirate Fairy!  Be sure to let your kiddos see.  They're going to love it!

Trailer – The Pirate Fairy on Disney Video
Follow Tinkerbell on Facebook
Follow Tinkerbell on Twitter
Disney's Pirate Fairy official Website