Dear Fat Rachel, I Love You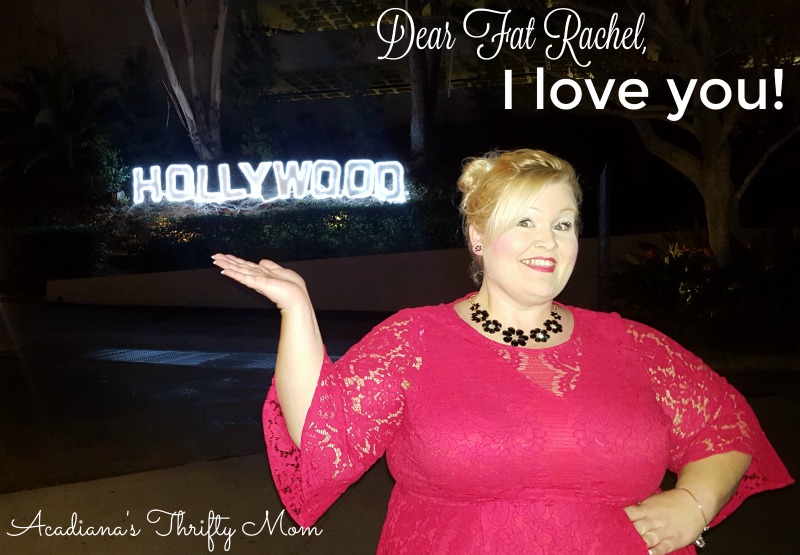 Okay y'all, I have to get this out before I forget.  I don't usually get super personal or mushy on my blog, but I'm 42 and it's time to get some things out in the open 😀  First of all, I have always referred to myself as "fat".  If that offends you, I am truly sorry.  I do not want to offend, so please don't take it that way.  There is power in saying it before someone else says it though, so I'm quick to claim that title before someone else sticks it on me.  I have been watching This Is Us on NBC and am in love with the character Kate (played by Chrissy Metz).  She is morbidly obese (Lord, I hate that term).  The show talks about so many important social issues, but this is one that just calls out to me.  So, I wrote a post on Facebook about my own personal struggles with obesity and a commitment I am making to my readers who struggle with body image.    The Facebook post wasn't enough, this needed to make it to an official blog post.  So, here it goes!
I have always been obese, not overweight or a little chubby, but obese…morbidly obese….I was a freak in the late 70's/early 80's. It was very rare to see overweight children then and I was way more than overweight. I was one of those kids that everyone stares at and talks about in Walmart because, yes, I was that overweight in 1st grade. As you can imagine, in the late 70's, I might as well have had 2 heads, because I was that HUGE. I distinctly remember weighing 120 pounds in 3rd grade and that was the first time my mother enrolled me in Weight Watchers. Now, my family will tell you that I was SO cute, because, well, I was 😉 Being fat is who I am. It is who I have always been. It is who I will always be. Yes, I take measures to lose weight and get healthy, but the truth is that (at 42 years old) my metabolism is set. My brain is hard-wired to be who I am. I'm not saying this for anything other than to make people aware. I'm not lazy. I do overeat. I have terrible eating habits, but these habits have been ingrained in who I am for, at least 36 years. I didn't "get fat" after high school. I didn't "put on a little weight" after having children. I'm not depressed and gained weight. This is who I was raised to be. Like it or not, it is who I am.
I have echos of friends and family chanting "fatty fatty two by four.  Can't fit through the bathroom door.  So she did it on the floor.  Licked it up and asked for more."  Yes, I am crying just typing this.  Maybe this is therapy for me.  I can, distinctly remember thinking "Do they really think I drink my pee?"  I know, a crazy question, huh?  But, I heard this, at least weekly, from various different people when I was a child.  I cannot imagine any of my children enduring this type of torture, yes torture.  I always thought I was fine and, "hey, they were kids!"  because they were…..but so was I.  The truth is, it did hurt.  It did shape who I became.  I don't blame anyone, but the truth of the matter is that it did shape who I am today.
Now, I have a commitment to my readers. I am committed to NEVER promote any weight loss product or program that does not take into account the vast array of emotional struggles that are entangled in any weight loss journey.  I have promoted a few in the past and now regret doing so.  I am quite sick of all of the weight loss and get healthy programs that cost entirely too much and NEVER take into account the emotional side of weight loss. The emotional side is THE MOST IMPORTANT part of any successful weight loss program PERIOD! So, please, spare me! Stop posting that if we had the right amount or type of motivation we would lose weight or get healthy. I have more motivation than anyone I know, but motivation has NOTHING to do with it, at least not for me. I will not support any program or weight loss system that does not include, at its core, extensive emotional support. Too many HUGE companies are making millions of dollars each year from the failures of already emotionally fragile people.