Cruising Through My Interviews With The Hotel Transylvania 3 Crew
Cruising Through My Interviews With The Hotel Transylvania 3 Crew.  Friday the 13th is almost here, which means that Hotel Transylvania 3 will be in theaters everywhere very soon!

Last week, I had the amazing opportunity to travel to Los Angeles and take part in the press junket for the brand new Hotel Transylvania 3.  This was such a fun opportunity, partly because it was held at the amazing London West Hollywood Hotel, which is everything you would expect from Hollywood; but mostly because it was for a film that has been keeping us entertained since 2012!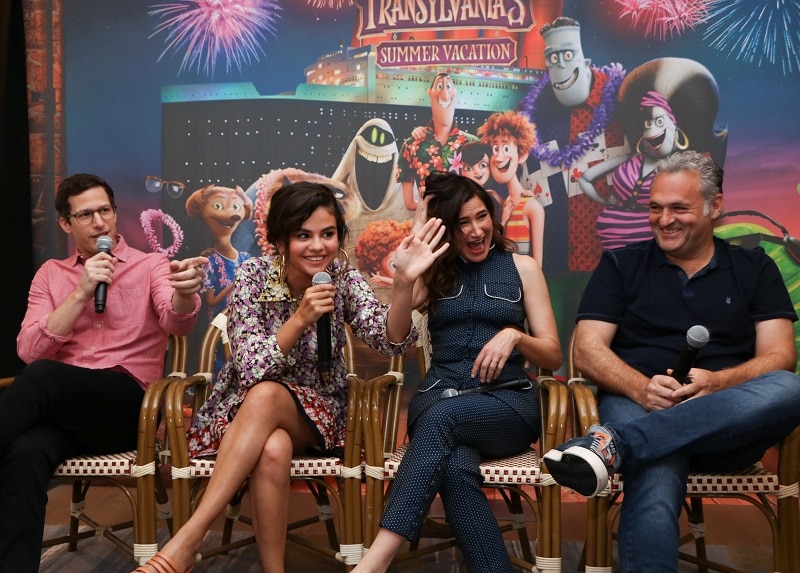 Over the last 6 years, Hotel Transylvania has developed a solid base of devoted followers.  Everyone wants to know what Drac, Mavis, Johnny, Dennis and the gang are up to.  Well, this time, the goulish group takes a summer vacation aboard a cruise ship just for monsters.  I was able to sit down with Selena Gomez, Andy Samberg, Kathryn Hahn, and Genndy Tartakovsky and find out how this film came about and what it took to pull it all together.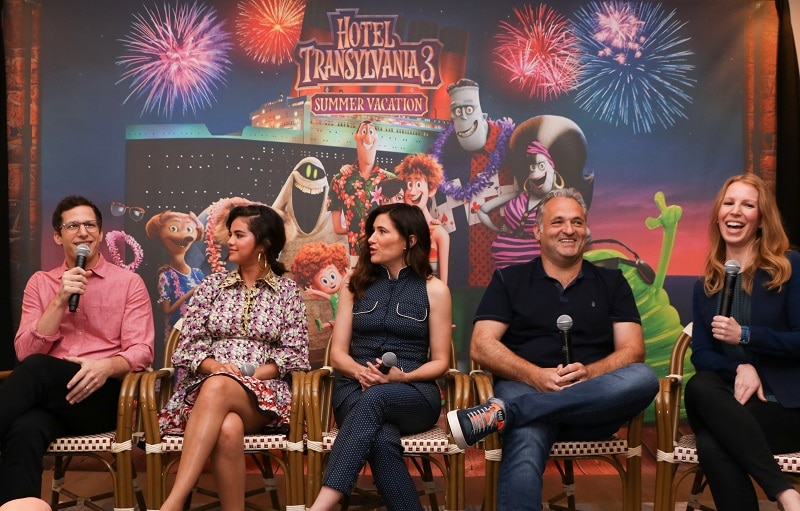 When the group walked into the room, I just knew we were in for a treat!  The mood of the room quickly changed to one of anticipation to one of fun and excitement.  I have interviewed quite a few celebrities and it's always fun to see the chemistry between actors after a film is finished.  The chemistry between this cast was definitely going to be fun! This interview was being streamed live in People's Facebook page.
The first question was directed toward Genndy Tartakovsky about how Hotel Transylvania 3 came about.  To my surprise, Genndy  said it was not something he had planned.
Question:  Where did inspiration strike for this third one and at what point do you give these guys a call and get them back on board?
Genndy Tartakovsky:  Well, it was actually opposite in the beginning where I was like 'There is no way I am going to do a third movie because, you know, making an animated movie is a journey, it's something super difficult.  But, then, that year my in-laws surprised our family with a holiday cruise.  Who doesn't love to be with their in-laws, trapped on a boat, for a week?  As I was boarding the ship, because it was a holiday, it was all families.  I started to realize; wait, what a perfect setting for our monster family!  Not only is it a hotel on the water, but it's also a great setting to do the story of Drac falling in love, which I've always wanted to do.
Question:  What is your favorite scene and tell me about your most memorable family vacations.
Kathryn Hahn:  I am excited to see the scenes with Drac are romantic scenes.  The family vacation; I grew up in Ohio and my dad was always trying to get the cheapest family vacation he possibly could.  I remember, in particular, there was a ski resort in Pennsylvania in a place called Blue Knobs, Pennsylvania.  We would go there in the summer.  We took a road trip in the summer.  A ski lodge in the summer.  My dad took a picture of all of us on a grounded ski-lift.  It was the off, off, off season.
Selena Gomez:  I think my favorite scene would be between Mavis and Dracula, when she kind of has to let go of her dad.  It's ironic to me.  I'm in the opposite end of the spectrum where it's having my family be so close and then me doing my own thing.  The older I get, the more I want to take care of them and I think I have the right to have an opinion.  That's kind of hard for a kid, for a daughter.  I found that very sweet because she wants the very best, but doesn't want to lose her dad.
Andy Samberg:  Well, no one cares what I think after all of that.  I like the Gremlins scene.  Annnd we would go to the beach.  Let's just move on (laughing).
Question:  This is more of a question for Andy and Selena as well.  You were mentioning about the father-daughter relationship.  As we see that relationship evolve between Mavis and Dracula.  Once Dracula "Zings" Ericka, it gets concerning that she's worried for him.  What message do you think Mavis is trying to tell with regards to the father-daughter connection?  How'd you get the inspiration to embody that between the father-daughter and the family?
Selena Gomez:  I think what Mavis is trying to do is be over-protective.  I feel that from both ends; from parents and from children.  I find that dynamic is really interesting to me.  Everyone has walked through it; especially a daughter and a father.  I think there's something really important because it's the first man in your life.  Essentially, it's the first man you love.  It means a lot and, I think for Mavis, that's all she had.  I think that was beautiful.  I relate to that because I come from a separated family and moved from Texas to LA, so I sympathize with it.
Question:  What is it like to be a voice actor, versus a TV screen actor?
Selena Gomez:  That is a great question!  I love being in my pajamas and I love not having anybody look at me.  The difference, when I am on screen, I've gotta eat better and I've gotta act with my face.  Apparently, I have a very "expression-ful" face.  I don't even know what that means.  I think the difference is pretty great.  You get to relax more in one and the other you're having fun and you're on camera.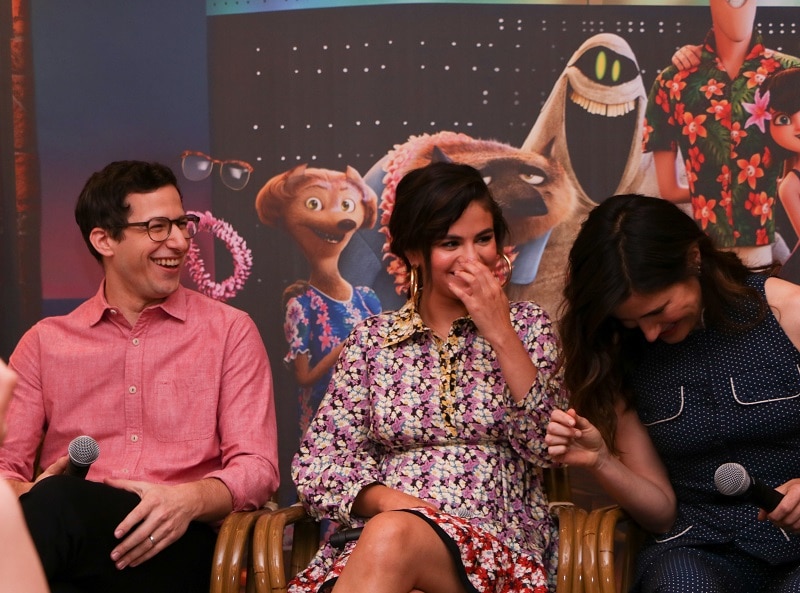 Question:  What characteristics do you share with your characters?
Andy Samberg: Looking at my character, I can't see any similarities *laughing*
Selena Gomez:  My hair's short, definitely, physical-wise.  But I can be a bit much sometimes.  I think she always likes to take care of everybody.  She's kind of just all over the place.  Being unconventional; I relate to that.
Kathryn Hahn:  I've got a touch of OCD.  A cruise director could be for me, I would say.
You can see the entire interview below:
About Hotel Transylvania 3:
In Sony Pictures Animation's Hotel Transylvania 3: Summer Vacation, join our favorite monster family as they embark on a vacation on a luxury monster cruise ship so Drac can take a summer vacation from providing everyone else's vacation at the hotel. It's smooth sailing for Drac's Pack as the monsters indulge in all of the shipboard fun the cruise has to offer, from monster volleyball to exotic excursions, and catching up on their moon tans. But the dream vacation turns into a nightmare when Mavis realizes Drac has fallen for the mysterious captain of the ship, Ericka, who hides a dangerous secret that could destroy all of monsterkind.
Get social with Hotel Transylvania 3: Summer Vacation:  Official Website  Facebook  Twitter  Instagram  Official Hashtag: #HotelT3
Check out these other great posts from Acadiana's Thrifty Mom:
https://acadianasthriftymom.com/2018/07/09/will-drac-finally-find-love-at-sea-in-hotel-transylvania-3/
https://acadianasthriftymom.com/2018/07/10/be-the-first-of-your-friends-to-experience-wonder-park-with-their-first-image-and-teaser-trailer/
https://acadianasthriftymom.com/2018/07/10/watch-the-new-featurette-for-christopher-robin-then-get-your-advance-tickets/