Crazy Good Pepperoni Pizza Burgers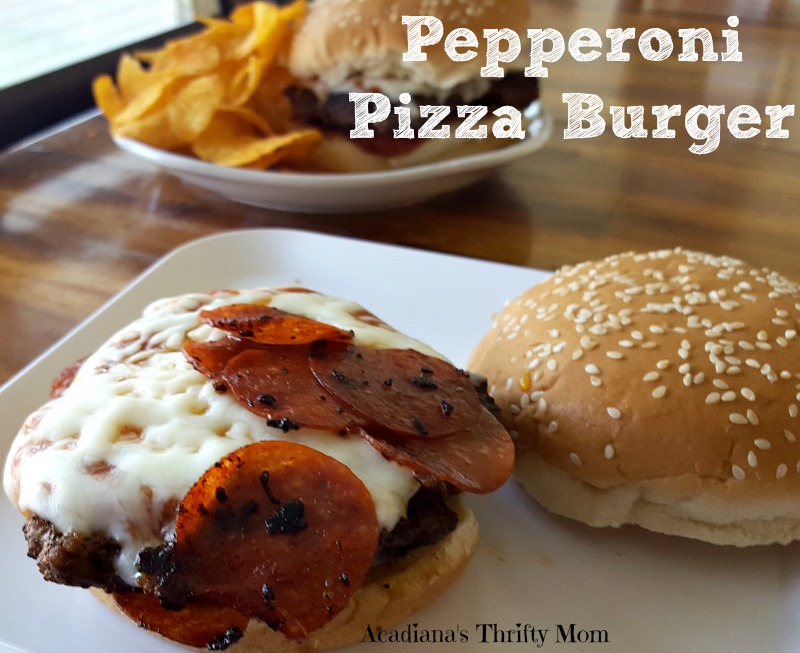 I love it when I'm experimenting in my kitchen and the recipe turns out  amazing.  That's exactly what happened with my Pepperoni Pizza Burgers!  Y'all are not going to believe how easy these were and how delicious they taste.  I was even surprised, myself.  The best thing about these pepperoni pizza burgers is that there isn't anything on them that can't be put into the microwave if you have leftovers.  No mayo or lettuce to get yucky in the microwave.  My hubby loves to heat these up for supper the next day.  Next, I'm going to try them inside of my hoomemade bread and make kind of a hot pocket and see how that works.  In my head, it sounds great, but you never know until you taste it LOL  Well, I hope you all enjoy these as much as we did!
 Gather your ingredients:
2 lb ground beef or ground turkey
7 oz sliced pepperoni
6 oz mozzarella cheese
1 cup of your favorite pizza sauce
8 hamburger buns
Get to cooking:
Prepare 8 hamburger patties from the 2# of ground beef.
Place 3 patties in skillet on medium, add salt and pepper to taste.  Allow to cook for 5 minutes, then flip patties.
Place 8 slices of pepperoni on the cooked side of each patties as shown in the picture above and allow to cook for 5-7 more minutes, then carefully flip patties onto the pepperoni side.
Spread 2 Tbsp of pizza sauce onto plain side of patties that is now facing up then sprinkle with mozzarella cheese and allow to cook for an additional 5-7 minutes.
Carefully remove patties from the skillet and place onto buns.  You can now sprinkle with additional cheese before serving.
Prepare remaining patties in the same manner and serve warm.
Enjoy!