Buffalo Chicken Crescent Ring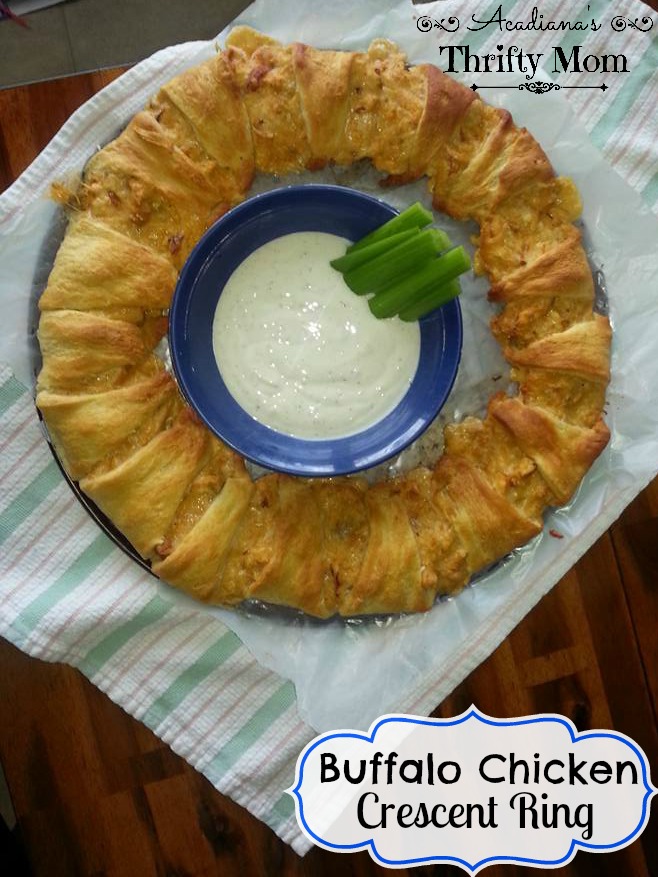 Oh my goodness!  How delicious is this?!  We are huge fans of buffalo chicken and this Buffalo Chicken Crescent Ring looks like JUST the perfect football snack.  This could even be divided up for lunches if your kids are as big of fans of buffalo chicken as mine are.  I would imagine you could even make it with biscuits, bread dough, or pizza crust.  the possibilities are endless!  I hope you enjoy this recipe as much as we did.
Ingredients:
1 can cream of celery soup
2 Tblsp Louisiana Hot Sauce
1 cup shredded Monterey Jack cheese (4 oz)
2 cans (8 oz each) refrigerated crescent rolls
2 cups boneless skinless chicken breast, chopped.  (I love to use chicken tenders)
Get to cooking!
Heat oven to 350°F. In small bowl, mix soup and hot sauce until smooth. Mix in chicken and shredded cheese  until combined well.
On large cookie sheet (I line mine with parchment paper), arrange crescent triangles in ring so short sides of triangles form a circle in center, making sure that the dough overlaps.
Spoon the soup/chicken mixture on the half of each triangle closest to center of ring.
Bring the other end of the triangle over the filling.  Some like to tuck this end of the crescent under, but I just leave it and it turns out great!  Go around the entire ring until entire filling is enclosed.  Some filling will show and that's okay.
Bake 20 to 25 minutes or until dough is golden brown and thoroughly baked. Let cool 5 to 10 minutes before cutting into serving slices.
Serve with ranch dressing and celery and carrot.  ENJOY!