Thank you for the great guest post Natalie 😀
Shopping can be a lot of fun. However, it can be a challenge to find the perfect present for someone when you are trying to shop on a budget. Here are some of the best times of the year to shop for presents that can also help you save money in the long run.
Black Friday
Image via ktsm.com

Are you ready to shop until you drop? Well, Black Friday is one of the busiest shopping days of the year. On Black Friday, which is the day after the Thanksgiving, retailers offer their customers amazing sales on items such as computers, televisions, and toys. When you combine using coupons with these sales, you will not only find a present within your budget but you will also save more money as well.
Helpful Tip: Be sure you get plenty of rest the day before Black Friday because some of the best deals start as early as 2 a.m.
Cyber Monday
Image via air-tan.com
Do you prefer to shop online from the comfort of your own home instead of going to a brick and mortar store? Then Cyber Monday would be the ideal shopping day for you. On Cyber Monday, which is the following Monday after Thanksgiving, online retailers offer discounts and sales to their customers via the Internet. In addition to savings, some online retailers have weekly promotional games as an extra incentive to purchase items, too. So good luck on become the next weekly sweepstakes winner!!
Helpful Tip: Before you make an online purchase, be sure to surf the Internet for the best deal.
The After-Christmas Clearance Sales
Image via shefinds.com
Shopping after Christmas can also be a great time to shop for presents. Since retailers are often left with a surplus of items on their shelves after the holidays, prices are often reduced as a strategy to get rid of the excess inventory asap. As a customer, you can use this strategy to your advantage to find the presents that you need at a discounted price. In addition to retailers, restaurants also offer after-Christmas or holiday promotions to save money when dining out, too.
Helpful Tip: Start shopping early after Christmas in order to find the best deals available.
The End of the Season Sales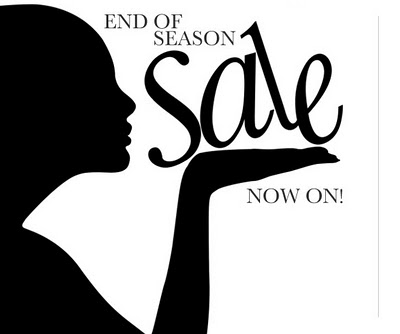 Image via iniam-boutique.blogspot.com
If you don't mind waiting to go shopping, then an end of the season sale can be a great way to stock up on great presents. Each year, the Fall, Winter, Spring, and Summer seasons come and go. At the end of each season, retailers often restock their inventory with the latest merchandise on the market and markdown the current inventory. You can use these markdowns to your advantage by purchasing discounted presents for usage in the future such as swimwear, winter coats, or ski gear.
Helpful Tip: If you are purchasing clothing, try to purchase items that are adjustable especially when buying clothing for growing kids.
The key thing to remember is to shop wisely no matter when you purchase your presents. By doing your research before shopping, you can save yourself both time and money.
Sources:
http://www.bankrate.com/finance/money-guides/best-time-to-shop8-28358.aspx
http://lifehacker.com/5872627/the-best-time-to-buy-anything-in-2012
http://frugalliving.about.com/od/bargainshopping/tp/Best_Time_To_Buy_Everything.htm