Best Places For The Whole Family To Spend The Fourth Of July In Acadiana 2017
If you're like so many people around Acadiana, you might be scratching your head wondering where all of the fun stuff is on the Fourth of July!  Well, I have been scouring the internet looking for just the most fun for you and your family to have on the Fourth of July this year.  Each year, it seems the number of places offering a fireworks display dwindles, but don't worry, I found some super fun activities just for you and your entire family.  The great part is that none of them cost more than $5 and most of them are FREE!  If you're like us and prefer to stay at home, I have some super fun ways to celebrate at home from under $30!  Just go over here and check them out.  Have fun, stay safe, and enjoy your summer!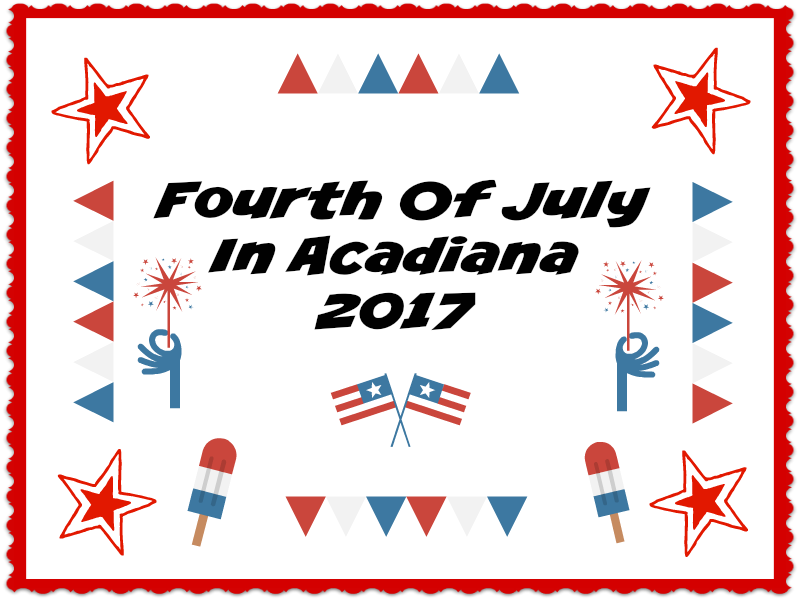 * * * * * * * SATURDAY, JULY 1 * * * * * * *
Eunice Independence Day Celebration ~ FREE ~ Saturday, July 1
Independence Day Parade—Line-up at the First Baptist Church at 8:30 AM, parade begins at 9 AM
Come see everyone celebrating our nation's birthday!
Independence Day Celebration in Marshall Park—opens immediately following the parade
Ribbon Cutting for Marshall Park Renovation begins after the parade in Marshall Park @10:30 AM
Community BBQ by Dickey's begins at 11:00 AM (after ribbon cutting)
Booths, concessions, music by Danny Lyle, climbing wall, treats, games, turtle races, sand pile treasure hunt, dunk tank, EFD water polo, children's wet slide and obstacle course, tee shirts and more!
Fireworks at Eunice Lake at 9 PM
American Legion Dance—9 PM-1 AM, features DJ David Crisswell, adults 21 and over welcome
Lafayette 4th of July Celebration & St. Julien Park Opening ~ FREE ~ Saturday, July 1
Come out on Saturday, July 1st and enjoy Broussard's 12th annual – Family Friendly – Independence day Fireworks Display sponsored by Don's Automotive Group. The fireworks display, in conjunction with a "Soft Opening" of St. Julien Park in Broussard, will be home to many festivities for the kids, including fun jumps, face painting, splash pad, play ground, balloon artists, magician, and much more. Festivities begin at 6 pm at St. Julien Park on St. Nazaire Rd in Broussard and the Firework Display will begin at 9 pm. Concessions will be available. This event is free to the public. Plan to get there early for a supreme spot!
* * * * * * * MONDAY, JULY 3 * * * * * * *
Jennings Stars & Stripes Celebration ~ $5 (12 & under free) ~ Monday, July 3
Gates open at 4 p.m. ~ Free parking ~ Live bands, food and craft vendors. ~ Lawn chairs and ice chests welcome ~ 4 p.m. at the Louisiana Oil and Gas Park, 100 Rue De L'Acadie, Jennings, LA 70546, Contact the Jennings Festival Association for more info at: (337) 821-5531.
Lafayette Uncle Sam's Jam ~ FREE ~ Monday, July 3rd
Uncle Sam's Jam is the Official Downtown Lafayette Fourth of July celebration held at Parc International on Monday, July 3rd from 4-10pm featuring live entertainment, local food vendors, and a fireworks display.
Youngsville Sugarmill Pond Independence Celebration ~ FREE ~ Monday, July 3
Free Admission & Activities!
Fireworks Display
Free Parking at AES with Trolley Rides to Event
Food & Beverages Available for Purchase (No Ice Chests or Pets Please)
Free Activities Include

Face Painting
Pony Rides

Kayak Demonstrations

Remote Control Boat Demos

Stilt Walker

Live Music by Zydeco Radio
* * * * * * * TUESDAY, JULY 4 * * * * * * *
Baton Rouge Independence Day Concert ~ FREE ~ Tuesday, July 4
Free and open to the public and family friendly! What better way to finish your day of BBQ, pie, and sun than with a collection of patriotic tunes performed by Baton Rouge's very own concert band?! The concert will be held at the A.Z. Young Park, right next to the (new) state capitol building.
The concert is scheduled to lead up to the fireworks over the Mississippi river, giving you plenty of time to find your spot on the levee and enjoy the show after we leave you with a melody fitting for the occasion!
Erath 4th of July Celebration ~ FREE ~ Tuesday, July 4
17th Annual Fun Run – 5 K Run and 1 Mile Walk ~ 7:30 AM *For more information, call Skeeter (337) 577-2534.
WATER FIGHTS BETWEEN THE AREA FIRE DEPARTMENTS ~ 10:00 AM – Downtown Erath
CAJUN CARNIVAL RIDES ~ 1:00 PM – 10:30 PM
PARADE ~ 5:00 PM
MUSIC – Disk Jockey Wesley LeMaire & Wesbound ~ 6:30 PM – 8:00 PM
FAIS DO DO ~ Leroy Thomas & the Zydeco Roadrunners ~ 8:00 PM – 10:30 PM
GIANT FIREWORKS DISPLAY OVER THE SKIES OF ERATH ~ 9:00 PM
No ice chest, outside food or beverages, or pets are allowed on the festival grounds.
HAVE A SAFE AND HAPPY 4TH OF JULY CELEBRATION!
Lake Charles Fourth of July Concert ~ Tuesday, July 4 ~ FREE ~
Celebrate the 4th of July with a FREE Patriotic Concert, compliments of the Lake Charles Community Band, in celebration of the City of Lake Charles' Red, White, Blue and You Festival. Bring your lawn chairs. Immediately following the concert will be a beautiful fireworks display.
New Iberia Fourth of July Parade ~ Tuesday, July 4 ~ FREE ~ 5:30 p.m. to 7:30 p.m., Historic Downtown New Iberia/Bouligny Plaza
Fourth of July parade followed by Honor Guard ceremony along with harmony of patriotic music.
Phone: (337) 344-9397
Main Street, New Iberia, LA 70560
If you want to have your event added to this list, please email me at [email protected]  🙂