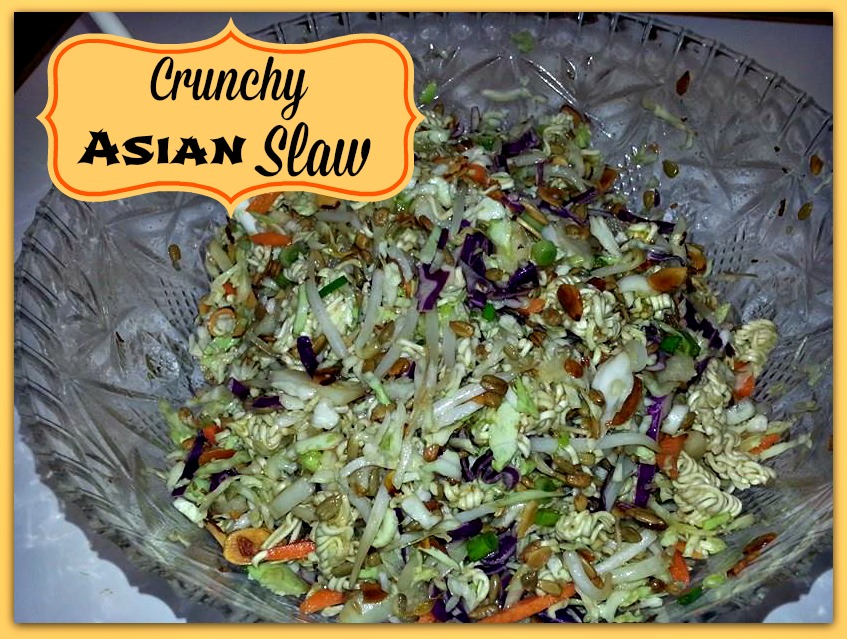 Crunchy Asian Slaw
This is another favorite around our house.  Are you starting to notice a theme here?  We love food around our house LOL  Seriously, I love making salads because it's a great way to "sneak" healthy foods in on your little ones.  there are so many ways to get some great, vitamin packed goodies in this one!  Snow peas are a great addition to this dish.  Be sure to let me know how you like this one.  My aunt makes a version of this at our family gatherings and it is always gone fast 😀
Gather your ingredients:
1 (16 ounce) bag coleslaw mix (you can use regular or the broccoli slaw)
1 cup sunflower seeds
1 cup toasted almonds
2  ~ 3 ounce bags Ramen noodles, crushed (any flavor, I used chicken)
4  green onions, sliced
1/2 cup peanut oil
1/2 cup white vinegar
1/2 cup granulated sugar
1 Tablespoon soy sauce
1/2 cup bean sprouts (optional)
1/4 cup chopped water chestnuts (optional)
Get to mixing:
In a large bowl, place coleslaw mix, sunflower seeds, sliced almonds, crushed ramen noodles , and onions.
In a medium mixing bowl add peanut oil, vinegar, sugar, 1 packet of seasoning from the ramen noodles, and soy sauce. Whisk together. Don't worry if the sugar will not completely dissolve right away.
Pour oil mixture over the coleslaw mix and toss everything together with a large spoon until everything is thoroughly coated.
Cover and chill in refrigerator for at least 2 hours (this allows the sugar a chance to dissolve).
Serve cold or room temperature.
ENJOY!