I saw this wreath in a magazine while I was in the waiting room at my doctor's office. Everything
I used for this wreath was purchased at my local Dollar tree! It was so much fun and very
easy to create. This can be used as a Memorial Day wreath or a decoration for the 4th of July ♥
Here you go: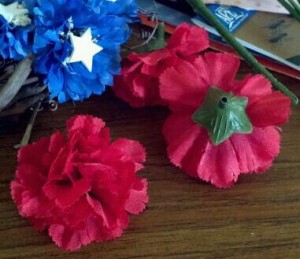 Gather your supplies:
1 grape vine wreath (I used the 12″)
24-36 artificial red carnations
24-36 artificial white carnations
12-18 blue carnations (or something similar)
1 pack of white or silver stars
1 hot glue gun & glue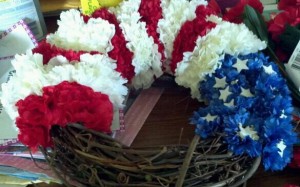 Get Started!
1. Remove all of the flowers from their stems and arrange in groups by color.
2. Starting with the red, arrange two rows of flowers very close together and
glue to the wreath with a generous amount of hot glue. Alternate the
same with white flowers. Keep this pattern going until you have about 6 inches left
on the wreath.
3. Arrange rows of blue flowers in the remaining space. After the blue flowers have;
glue the stars to the blue flowers.
VOILA! You're finished! This simple idea can be used for a variety of occasions.
I plan on making one for Christmas too ♥