My AMAZING Trip To The LA Zoo
While on my trip to Los Angeles last month; I was able to visit the LA Zoo!  After our viewing of the super-awesome Disneynature Bears, which opens in theaters everywhere on Friday, April 18 (just 2 days away); we headed over to the zoo to see some bears in real life LOL  Anyone who knows me very well, knows that I'm a huge fan of zoos.  I really haven't met a zoo I didn't LOVE!  My kids and I all love animals and we are fascinated with learning about all different kinds of animals.  What better place to do that than a zoo?!

Myself, Tiffany from Fabulous Mom Blog and Dawn from Blogging Mom of 4 headed into the LA Zoo!
The first stop on our tour was The California Condor Rescue Zone (CCRZ)!  In the California Condor Rescue Zone, you can learn all about the California Condor and their habitat.  You can see below that Marshall Weinbaum and Tara from Trippin' With Tara had a blast role playing with the California Condor puppets!  Maybe it was our "Muppets Most Wanted" t-shirts that inspired them LOL  The California Condor Rescue Zone is open Fridays, Saturdays, Sundays, and City recognized holidays, from 10am – 4:30pm.
Next, we were able to meet Dolly; the California Condor.  Here's a little bit about Dolly from Stephanie Coffey:
"Dolly hatched in Pinnacles National Park from an egg previously laid at the Oregon Zoo condor facility and transferred to the wild by L.A. Zoo staff. She was raised by the wild parents, and developed normally until just after her four-month check-up, when the team noticed that she was not using her right wing. Radiographs confirmed that she had suffered a fracture. Zoo veterinarian Dr. Stephen Klause performed two surgeries to repair the damage, however, due to the location of the injury, it was determined that Dolly would never be able to fly. This put the staff in a difficult situation. Clearly, she could not return to the wild. But it would be almost as difficult to integrate her into a captive breeding group. If she climbed too high on the perching provided, she might try to fly down, further injuring herself. Also, condors can sometimes be aggressive in their social interactions and she would not be able to escape. So Dolly's fate was decided. She is a compelling ambassador, drawing people in with her regal presence and crafty demeanor, but it's a dynamic role that requires constant attention and reinforcement. In the process, staff who work with her are gaining valuable insights about Dolly, and about her species."
One of my favorite animals at any zoo is the chimpanzee!  The LA Zoo had plenty to view and watch.  They are always so much fun to watch.  Here's a little bit about the chimpanzee from the LA Zoo:
"The Los Angeles Zoo is home to one of the largest chimpanzee troops of any zoo in the country. Built in 1998, the Zoo's "Chimpanzees of the Mahale Mountains" habitat has been hailed by renowned primatologist Jane Goodall as one of the country's finest chimpanzee habitats. Maintaining a healthy, diverse zoo population of chimpanzees is crucial to the survival of the species."  You can read more HERE.
Of course we visited the bears!  We just finished our viewing of DisneyNature Bears 😀  I will tell you more about the movie tomorrow, but in the meantime; I want to share with you about the bears from the Los Angeles Zoo:
"American black bears are the smallest and most prevalent of the bears native to North America. American black bears consume large amounts of food during the summer and fall, but they aren't "true" hibernators because their body temperatures don't drop dramatically, and they are still relatively alert. However, black bears still don't eat, drink, or excrete waste during this time."  You can read more HERE.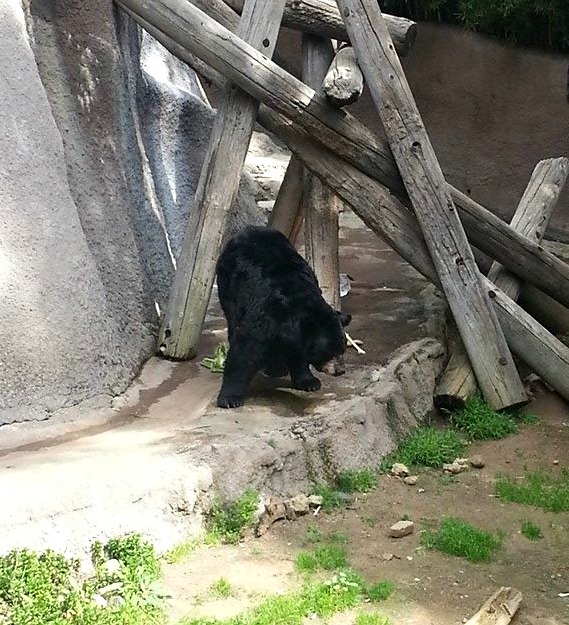 I took a picture of my little Amber plush from DisneyNature Bears at the bears exhibit LOL  The Disney Store will contribute $1 to the NATIONAL PARK FOUNDATION for every BEARS plush purchased between now and 5/11/14. Get yours HERE!
I was also given a beautiful DODOcase for my daughter's iPad Mini!  This case is beautiful and perfect for my daughter who LOVES nature <3  DODOcase introduces a limited edition collection of iPad Air, iPad Mini and iPhone 5/5S cases featuring a custom BEARS design. 20% of each sale will go directly to the NATIONAL PARK FOUNDATION. Visit DODOcase to purchase and learn more.
Don't forget about our Alex Woo DisneyNature Bears Pendant Giveaway going on right now!  To celebrate DisneyNature Bears opening in theaters everywhere this week, Friday April 18; Acadiana's Thrifty Mom has joined up with some amazing bloggers to bring you this amazing Alex Woo pendant!  You can ENTER HERE!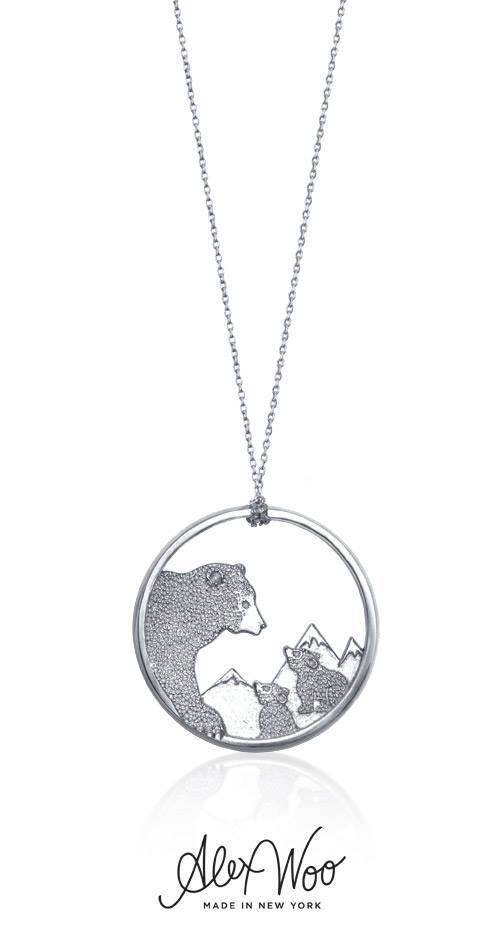 Take a look at the trailer for Disneynature Bears opening Friday, April 18!