A Beautiful Mortar And Pestle From Frieling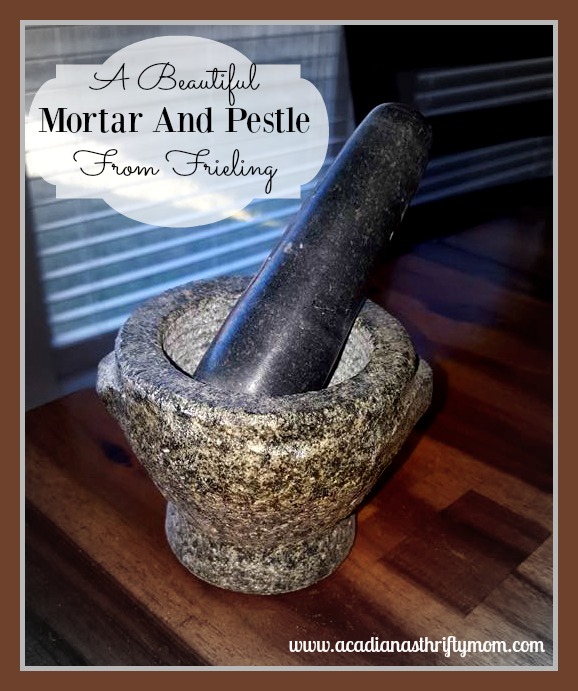 A mortar & pestle is just one of those things I have always wanted, but I never quite got around to adding to my collection. It's one of those kitchen necessities that is easy to forget about when you're out shopping, but when you see one or need one for crushing herbs; you can't believe you haven't bought one yet! Well, I finally got one from Frieling! I am in love with it! When it first came in I thought "Dang! This thing is heavy!" Next my thoughts immediately went to "Oh my goodness! This is something I can pass on to my grandchildren!" I collect cast iron cookware for this same reason although all 3 of my kids tell me they're never going to have kids LOL  This mortar and pestle is my pride and joy now.  It has become the centerpiece of my stove.  I find myself just staring at it LOL Of course I used it to crush some mint too, but mostly just staring.
From Frieling:
An authority in the Mortar & Pestle category, Cilio expands its line with four more dazzling granite and marble models. Perfect for making fresh guacamole, pesto, or grinding dry spices! They grind and crush whole spices and herbs quickly and easily, releasing full flavor and essential oils. Each mortar is cut from one solid piece of natural, uncoated granite or marble for longevity. The untreated inside features a coarse finish to facilitate grinding, while the tall walls won't let ingredients escape. The pestles are heavy, yet comfortably shaped. Top rated by a leading U.S.