Cotton Candy Sweetheart Sparkle
Can you believe these adorable drinks have only 2 ingredients?  They do!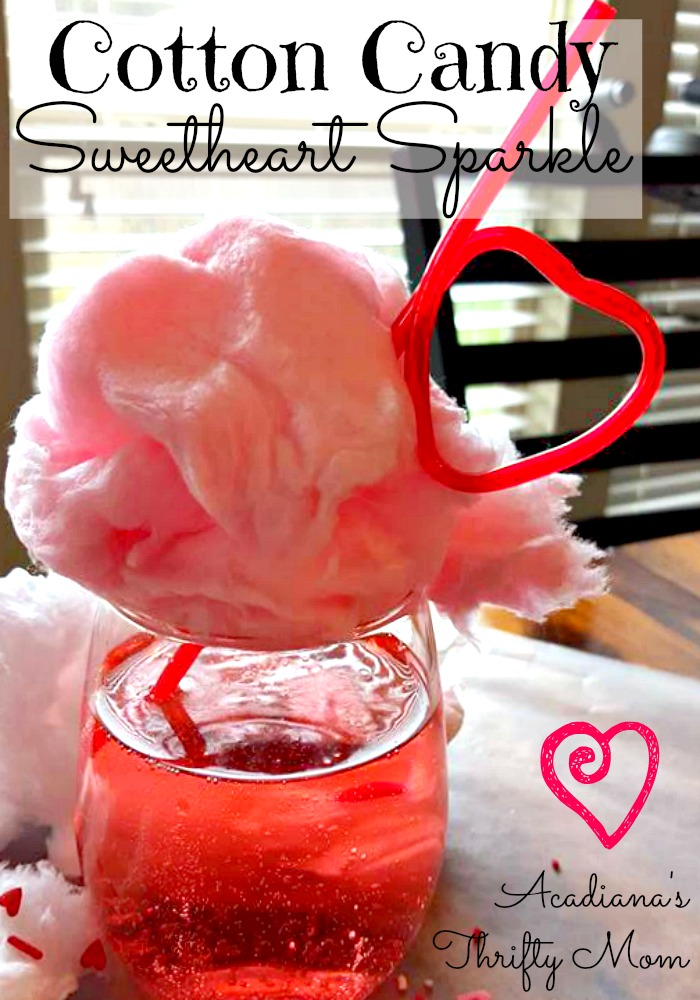 Y'all, this Cotton Candy Sweetheart Sparkle is the easiest and most fun drink I have ever made for my kiddos.  The Cotton Candy Sweetheart Sparkle quickly became a favorite and regular addition to our weekly menu.  Yes, I said weekly LOL  My kids love it so much and it is so super easy to make; how can I resist?  Friday nights are pizza night and now they are "Pizza sparkle" night 😀  You can adapt this recipe to any event, holiday or celebration you are having.  You can find any color of the rainbow cotton candy and you can also find every color of soda.  For this recipe, we used pink cotton candy and lemon lime soda.  My kids never get tired of watching the color of the soda change as the cotton candy melts!  With St. Patrick's Day around the corner, we're going to try blue cotton candy with yellow soda.  That should be fun!  I hope you enjoy this super fun recipe as much as we did 😀
Now just to get started.  Trust me, you'll be finished soon after you're started.
Gather your ingredients:
Cotton candy of your choice (we used pink for this recipe)
Soda of your choice (we used lemon lime soda for this recipe)
Get to pouring!
Fill any glass with cotton candy.
Pour your soda over the cotton candy until the glass is filled.
Decorate as you like!  VOILA!  That's it!  You're done!
ENJOY!!! <3