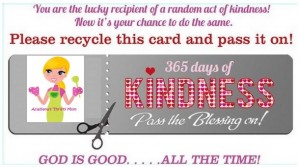 You can find an overview of each day HERE.
Today, I challenge everyone to send a card/email to 2 very special people/families. I will be sharing a very little bit about each person/family and my prayer is that you will at least send one card or email if not a card to every family. There are many sites that allow you to print FREE cards. To print sympathy cards CLICK HERE, 
to print Thinking of You Cards CLICK HERE, 
and 
to print Birthday Cards CLICK HERE. 
If you would rather purchase a card, please feel free to do that also. I would ask you to also pray for the recipient of these cards.
**PLEASE SEND ONE ENCOURAGING CARD**
William Wymer – Encouragement – Basic tongue and lymphatic cancer (Stage 4). He started chemo and radiations in January. I t has been really hard for him and all of us. It is not easy to see him suffering and dealing with this horrible illness. He has been really depressed, and he is losing his faith. He believes that there is no reason to live if he is going to continue feeling the way he is feeling. His daughteris asking for us to send motivational cards to him reminding him how amazing God is and how he is going to provide him the strengths to continue histreatment until he wins the battle. Please, pray a lot for him, we really need prayers. Cards can be sent to his daughter, Neyla Hill, 2360 Brookridge Drive
Toledo, Ohio 43613 (Thanks Neyla)
I hope everyone gets involved in this challenge. We truly can show the love of Christ in such a small, small way! None of us can help everyone, but all of us can help someone, and when we do we serve Jesus. We can make an impact in our communities, one life at a time!!
GOD IS GOOD. . ALL THE TIME!!
Thank you for allowing us to participate Saving and Sharing for Christ!