So many AWESOME stories from Day 1 of 365 days of Kindness. It is so encouraging and exciting to watch God at work. THANK YOU JESUS!!
Tonight I am posting day 2′s a little early, because this is a special one to me. As many of you know I am on our local radio station 101.5 The River weekly (every Friday) with Mary Beth and Rick. Well, about two months ago Mary Beth was diagnosed with cancer and she has been undergoing chemotherapy. CLICK HERE to read Mary Beth's story! They have been off due to the holidays, but tomorrow is their first day back on the radio (and if I am not mistaken Mary Beth will undergone her next chemo treatment on Thursday) and I thought it would be so wonderful for her e-mail box to be full of encouraging words. Even if all you write is "I am praying for you" "I am thinking about you" "Be blessed"  I know any note of encouragement would be appreciated by Mary Beth. How simply amazing would that be and it doesn't cost us anything, but I know this would make her feel so AWESOME. I love Mary Beth so much and she and Rick have allowed me to share my ministry on the air every single week and I think this is a wonderful way to PASS THE BLESSING ON. . .
Here is a picture of Mary Beth before CHRISTmas: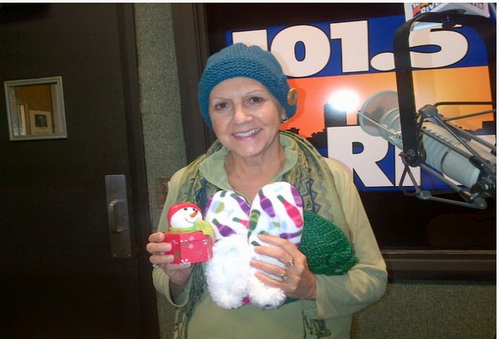 So today and tomorrow, I challenge everyone to
E-mail Mary Beth @  [email protected]
Or you can send her an encouraging card via snail mail to this address:
WRVF
Attn: Mary Beth Zolik
125 S. Superior St.
Toledo, OH 43604
I am praying that everyone gets involved in this. None of us can help everyone, but all of us can help someone, and when we do we serve Jesus. We can make an impact in our communities, one life at a time!!
GOD IS GOOD. . ALL THE TIME!!
Thank you for allowing us to participate Saving and Sharing for Christ!