Veteran's Day Freebies 2014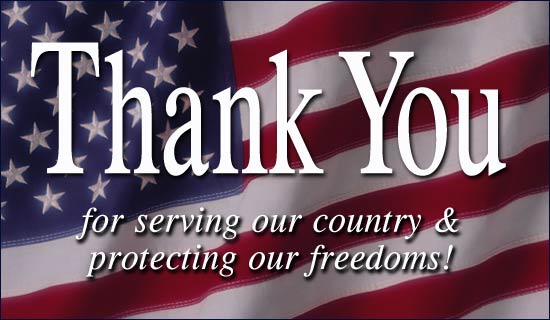 Restaurant Freebies
Orange Leaf Frozen Yogurt- To recognize and honor our American servicemen and women, Orange Leaf Frozen Yogurt will offer all retired and active-duty military personnel a free cup of froyo, up to 11 ounces, on Veteran's Day, Nov. 11. To claim the offer, customers should provide proof of military service, such as a military ID card, uniform photo, honors, badges, or come dressed in their military uniform. In addition, as part of its "Year of the Flavor" campaign, Orange Leaf is introducing its new, limited-time flavor, Pumpkin Spice Latte, for the month of November.
On the Border- On The Border Mexican Grill & Cantina is saying "Thank You" more than 150 ways this Veterans Day, as all veterans and active duty military will receive, for FREE, OTB's "Create Your Own Combo menu," the restaurant's best-seller featuring more than 150 possible meal combinations, on Tuesday, November 11, 2014.
Golden Corral - Military Appreciation Monday (November 17, 2014)  is offered to anyone who has ever served in the US armed forces. In the past the only requirement to receive the free meal was to inform the restaurant you are a veteran. They usually go on the honor system, and no proof required. That being said – please don't abuse the system. Claiming you are a veteran just for a free meal is an insult to those who have served our country.
Chick-fil-A - Participating locations are offering a free meal to all veterans and those currently serving. ID required. Please call ahead to verify.
IHOP – Free Red, White and Blue pancakes or Red, White and Blue pancakes combo plate including eggs, bacon and hashed browns. 7 a.m. to 7 p.m. At participating locations only.
Applebees – at participating Applebee's on Tuesday, November 11, 2014, Veterans can get a free meal. You'll be able to choose a meal from a limited Veterans Day menu that includes items like steak, cheeseburgers, chicken tenders, and lots more. View the list of menu items here.
Olive Garden - active-duty military and military veterans who provide proof of service on Tuesday, November 11, 2014 will get a free meal. Veterans can choose a free entree from a special menu of Olive Garden's seven most popular items. All of these entrees come with freshly baked garlic breadsticks and a choice of unlimited soup or salad.
Chili's- show proof of military service if you are a veteran or on active military duty to get your Veterans Day free meal on November 11th, 2014.
Krispy Kreme Doughnuts -  Free doughnut and small coffee for veterans or active military personal (no ID required) on Veterans Day.